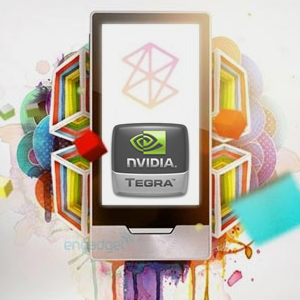 Engadget recently stumbled upon images of a possible new portable media player by Microsoft, which we now refer to as the Zune HD. The images, though rendered are believed to be authentic which pretty much reflect the new product in the Zune line of media players. The interesting thing about this Zune is the HD that appears in the images, suggesting that the device would be capable of playing back at least 720p video, something that the current generation iPod (Touch) can't do.
Decoding high definition video requires a lot of processing power, which isn't possible with the current line of ARM processors that dominate the industry today. So how would Zune be able to pull it off? My guess is that it may rely on NVIDIA's Tegra platform. There are a number of reasons to believe that its happening.
Tegra is based on the ARM family of processors. It is a "full system on a chip" architecture that can perform intense computational tasks while delivering rich graphical experiences. It is capable of decoding/encoding 720p H.264 and VC-1 videos and can drive a display with a resolution of 1280×1050 – making it ideal for an HD handheld device. All that power can be fitted into a device which would cost roughly $99.
Microsoft has been on the front line of NVIDIA's preferred partners for the Tegra Platform. The mobile device branch of Tegra currently only supports the WinMo platform, though they do have plans to eventually make it Android compatible. First commercial devices powered by NVIDIA Tegra are said to be launched in the second half of 2009. This coincides with the rumored launch for the Zune HD, which is slated somewhere between the Q3-Q4 of 2009. The Zune HD is also rumored to feature a camera, and the Tegra platform has a support for a 12 Mega Pixel camera to capture video in HD 720p resolution.
Here are a couple of videos showing the power of NVIDIA Tegra.