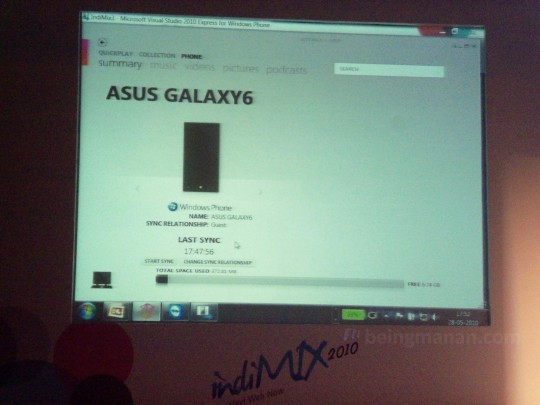 A friend of mine Manan, managed to get a sneak peak at an internal build of Zune Desktop software which is capable of syncing with Windows Phone 7 series devices – in this case, an ASUS Galaxy6. The current version of Zune desktop software (version 4.2) doesn't sync with Windows Phones, though select individuals who have access to Windows Phone 7 devices also have a pre-release build of Zune software which works with these devices.
According to Manan, during an IndiMIX 2010 demo of Windows Phone 7 application development, the Asus Galaxy6 ran into some technical trouble with Visual Studio 2010. The speaker had to reconfigure the device syncing through Zune desktop software. When connected, a new Phone pivot appears next to Collection, with four sub-tabs, Summary, Music, Pictures, Videos and Podcasts.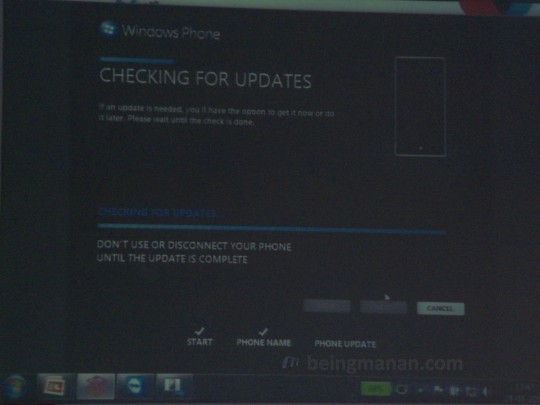 The previously announced Windows Phone OS update screen was also shown.
Interestingly, it appears that the Windows Phone OS 7 devices would only be able to sync photos, music, videos and podcasts with the Zune desktop software. There is no apparent way to manage and organize applications  on the device like iTunes does for the iPhone OS. I really hope Microsoft do decide to bake App management features in the Zune desktop software before the release of Windows Phone 7.
Head on over to Manan's blog for a few more screenshots.