After teasing us with a lot of images and videos, iH8sn0w just pushed out the final version of sn0wbreeze 1.6 to Jailbreak iPhone 3G, iPhone 3GS (the old bootrom) and iPod Touch 2G, all running on iOS 4.0. If your device fits the above criteria, then here's what you need to do to get your very own jailbreak working.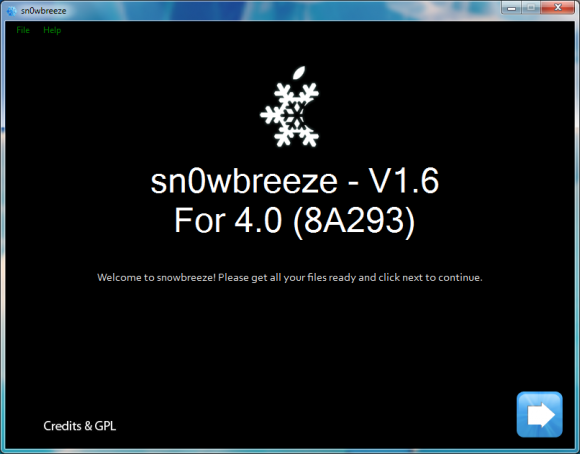 To Jailbreak your device, you'd need iTunes 9.2, the original firmware for your device (IPSW file) and a copy of sn0wbreeze 1.6 (download link at the bottom). Once you have everything set:
Fire up sn0wbreeze 1.6 and hit the next button in the bottom right corner.
Select either Simple or Expert mode to continue. Simple mode just sets the default options for you which include installing Cydia, and sn0wbreeze custom logos. Expert mode lets you fine tune additional settings like whether to enable multitasking and wallpapers on iPhone 3G and iPod Touch 2G which are disabled by default.
On the next screen, hit the browse button and select the original firmware you downloaded for your device.
If the IPSW file passes the verification, click next to continue and select what other options you want to include with your jailbreak. If you have no clue about what you are doing, then just select General and hit next.
The final screen would ask you to select the Expert options for your device. If you are on an iPhone 3G or iPod Touch 2G, you'd see the option to enable multitasking, percentage battery and wallpapers. Note that these options do affect the performance of your device.
Hit next and let sn0wbreeeze work its magic. Once it successfully builds the firmware, it would be saved in the same folder as the original.
Now connect your phone to your PC and fire up iTunes. While holding the Shift button, click on Restore button and select the jailbroken firmware from the previous step.
Let iTunes finish the restore and once your device reboots, ensure it has Cydia installed. If it does, you are successfully jailbroken.
If you want to unlock your device as well, then just follow the simple guide here on how to unlock your iPhone using ultrasn0w.
Note that you should only try jailbreaking and unlocking at your own risk and back your device up before attempting. No one else would be responsible if something goes wrong with your device or data.