A lot of activity on the iOS/iPhone front today. Right after the release of iOS 4.0, ultrasn0w 0.93 popped up to unlock it. But an unlock isn't possible without a jailbreak and this is where sn0wbreeze 1.6 comes in.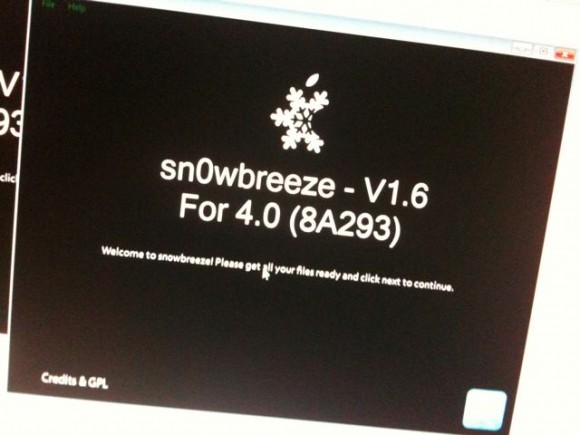 Beta versions of sn0wbreeze were already around to unlock the beta versions of iOS 4.0, but we didn't have an exact timeline for the release of the jailbreak. While there is still no official download available, iH8sn0w just teased a screenshot of the final version of sn0wbreeze 1.6 which would jailbreak iPhone 3G, iPhone 3GS, iPod Touch 2G, and iPod Touch 3G on iOS 4.0.
You can also enable features like multitasking and springboard wallpapers on the iPhone 3G and iPod Touch 2G which officially don't support them. I will update as soon as the final version is available for download.
How to Jailbreak using sn0wbreeze
You can follow our step by step guide to Jailbreak your iPhone 3G/3GS and iPod Touch 2G using sn0wbreeze 1.6.
Update
You can now Jailbreak your iPhone 3G and iPod Touch 2G with redsn0w as well as unlock your iPhone with ultrasn0w.