One of the things I really enjoy is reviewing Twitter Apps. In fact, this is the 5th post since the launch of The Technopath which is related to Twitter. And that is because someone is pushing out a new application every day, and a whole lot of applications overlap in functionality. That's why I try my best to highlight only the unique aspects of every application I review.
As far as Twilert is concerned, it's unique aspect is that it lets you monitor specific keywords, and send you email when someone mentions them on Twitter. Although I just reviewed Splitweet, which also lets you do just that, Twilert can be more productive if you just want to monitor keywords. And that's because you can configure a whole lot of options and that lets you set up alerts for exactly what you want. You will get a better idea from the following screen shot.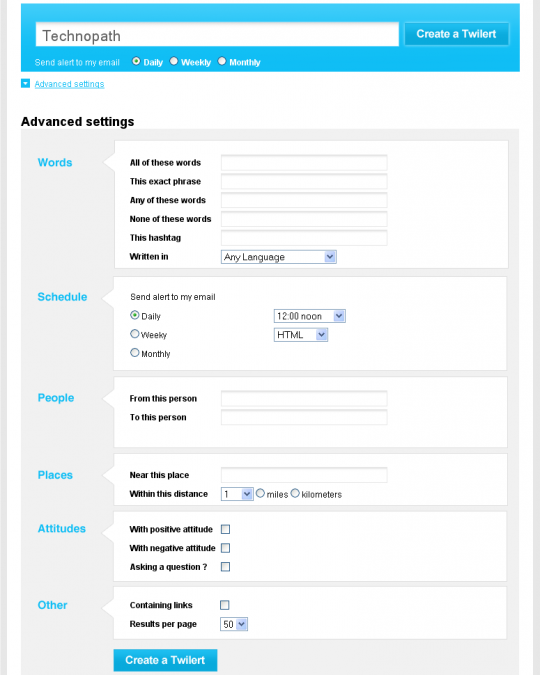 You can actually setup two types of alerts, simple and advanced. Simple alerts just let you define the keywords you want to monitor. You can set the frequency of the emails you get; which ranges from once per day to once every month.
The advanced mode lets you specify a whole lot of options. I would admit that I was looking down on this application until I saw this feature. You can filter alerts to even the most minor details ranging from exact keyword combination, who tweeted them, to whom were they sent, what was the location of the tweet, the timing and even the attitude of the tweet. Now that a hell lot of options that can be very useful if configured properly.
The only drawback I see of this service is that the registration process can be daunting as it asks for more personal information that most Twitter Applications out there. This usually scares of people who are cautious about revealing personal information on the Internet.