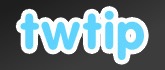 Twitter has made a huge impact on the world of Social Networking. Some have even started comparing it to Facebook and predicted that it may prove to be a Facebook killer, and take the throne. Whether that would eventually happen or not would be a hard guess at this time because both services are still maturing.
In the recent times, one major factor affecting the popularity of a Social Networking tool is the availability of 3rd party applications. Twitter is not behind in that game either, because lots of apps are developed around its public API.
TwTip is one such service. It is based on the Twitter Search API, and enables you to search tweets sharing tips on a number of topics. From iPhone, Google and Blogging to cooking, health and sex, you can get tips on any topic that you can think of. The interface is very simple, like any other search engine and you can even add and follow your favorite tipsters.
The only problem I have with this service is the fact that it is based on Twitter Search and doesn't involve a lot of innovation, meaning it can be cloned by any simple Twitter client that supports the search API. So I would hardly find a need to switch to a separate application to get some tips on a topic. Instead I would prefer a simple search manipulation from DestroyTwitter or TweetDeck to get what I want.