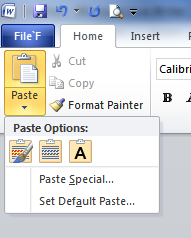 Continuing the series of posts about the new and useful features of Office 2010, I bring you Paste Options. Paste options have been there almost all along, but Office 2010 organizes them in a more powerful way.
Depending on the content of the clipboard, you are presented with a number of different advanced options for pasting content in your documents.
The options are show as small icons that appear either in the Paste drop down menu from the ribbon or in the context menu when you right click on the document.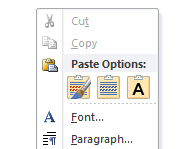 You can choose what the default paste action would be. For example, if you have rich text on the clipboard, then your choices are Keep Source Formatting, Merge Formatting and Keep Text Only.
Keeping Source Formatting keeps the text in the same format as you copied it. Merge Formatting mixes the source formatting with your current style. For example, bolds and italics would stay the same but fonts would change. And Keep Text Only would remove all types of formatting from the copied text.
Images only have the first two options enabled, while raw data – like bitmaps have none. Nice and productive features I must say. Now I wont have to hit that Clear Formatting button every time.