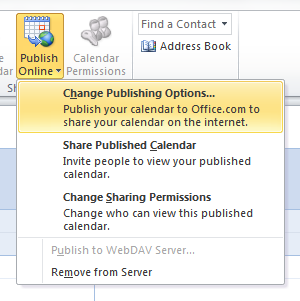 I've been playing around with the recent build of Microsoft Office 2010 (4417) looking for significant changes from the previous Technical Preview build. While some features were quite obvious from the screenshots, there was one new Online Experience feature which I couldn't figure out what it does. While the installer still redirects to OfficeBeta.microsoft.com when we click the button, I did manage to find some references to new Office.com domain recently acquired by Microsoft.
Office.com would be home to the upcoming Office Web Apps as well as other new Office 2010 online collaboration features – one of which is a Shared Calendar. I was able to sign up for an Office.com account from within outlook and publish my Calendar online for my friends and colleagues to see, though I wasn't able to actually view the calendar most probably because I didn't really have access to those features.
Still it was good to see that UI elements for the new service are already in place for the service, which I guess will be open for testing along with the official Office 2010 Beta later this year. Until then I'll keep on posting about other new features in Office 2010 so make sure you stick around.