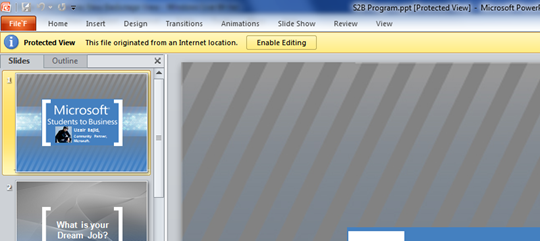 I stumbled upon a rather interesting feature while messing around with the Office 2010 Technical Preview. Its called Protected View which kicks in automatically when you open a document that came from an outside source, like the Internet. A good measure I must say, which would protect your system from malicious content.
You can still view the document while in Protected View, like I was able to run the presentation in full screen. You can't obviously edit the documents because they are locked for editing. To enable editing, you have to "indicate" that you trust the source by clicking the Enable Editing button from the info bar or the Backstage view.
I'll continue to post more interesting stuff I find about Microsoft Office 2010 Beta. In the mean time you can read about other new features of Office 2010 that I have already posted, or subscribe to the blog for more updates.