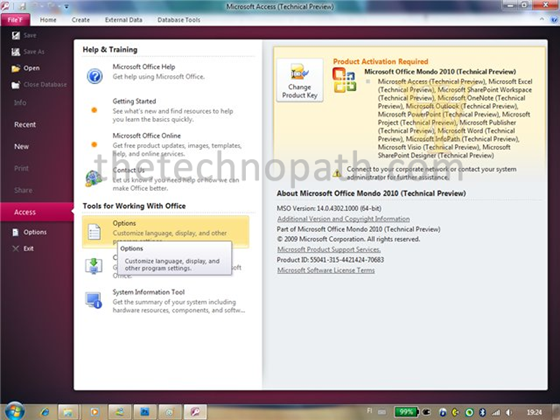 Update 3: Office 2010 RC (Release Candidate) is now available for download.
Update 2: Latest build of Office 2010 Beta is now available for public download.
Update: A newer build (Office 2010 Beta 4417) is now available which improves upon many of the features of the previous version.
The Windows 7 RTM Build wasn't the only thing leaked today. Apparently, the Office 2010 Beta 1 was also leaked on the internet. The source? same as the one which leaked the Windows 7 RTM.
The leak makes sense as the Office 2010 was supposed to be demoed on WPC 09 along with the Windows 7 RTM. So if the Windows 7 leak is authentic, then so is this.
The leaked build is MICROSOFT.OFFICE.2010.v14.0.4302.1000.BETA.1.VOLUME.X86-64 which has many differences from the build 14.0.4006.1010 primarily a new purple shaded color scheme.
The build is available on various torrent trackers and I'm in the process of downloading it right now. I'll post more details as soon as I test drive it.
Direct Download: MICROSOFT.OFFICE.2010.v14.0.4302.1000.BETA.1.VOLUME.X86-64.ENGLISH-WZT