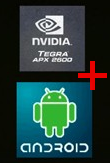 The NVIDIA Tegra system-on-a-chip has been generating a lot of buzz in the Mobile industry as it posses to be a solid competition to the ARM which currently dominates the market. Tegra platform can power anything from Smartphones and GPS Navigators to Mobile Internet Devices and Netbooks, though everything had been focused towards Windows Mobile for now.
Today NVIDIA unveiled its plans to develop the Tegra platform for the Android market too, as it believes that Android may surpass WinMo by the year 2012, which may be a little far fetched given the fact that Microsoft also plans to release Windows Mobile 7 next year.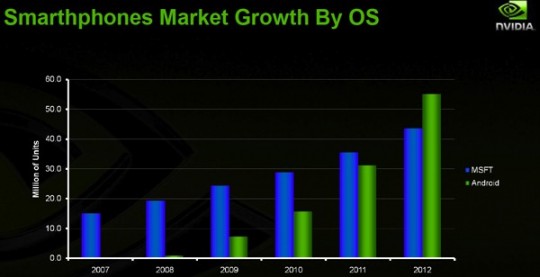 According to a couple of more rumors floating around, the new devices would be available at an exceptionally low cost: $99. Now how would NVIDIA manage to pull that off is beyond me, but it would be interesting to see how can the power of Tegra benefit the Android operating system because its UI has been a subject of criticism since the launch of the HTC G1. Tegra promises to provide a richer and more interactive interface while drastically lowering power consumption. How well NVIDIA would meet this target would be too early to say, but they have promised referenced implementations around the second half of the year meaning that we can see it slip into consumer devices as early as 2010.