Almost one year ago, Nokia released the first two devices in their newly christened Lumia line – beginning their attempt to regain the smartphone crown in close partnership with Microsoft. While Espoo's finest were released in a number of key markets simultaneously, the world wide launch had been staggered due to various reasons, one of which was the fact that the Windows Phone 7.5 operating system at the core of the devices didn't have a broad marketplace coverage. It has taken almost one full year for Nokia to bring the Amazing Everyday Lumia experience to Pakistan – A market now dominated by low cost Android devices from Samsung, Huawei and HTC.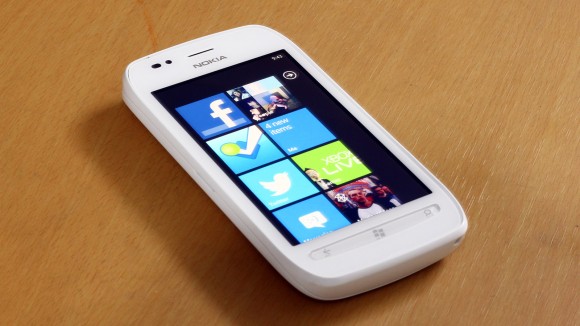 While not known for its heavy smartphone consumption, the Pakistan is still one of the key markets Nokia still has a foothold in and it makes sense that they are fighting hard to keep it that way. Low cost phones really do flourish in a market like this which is evident from the success of the Samsung Galaxy Y, Huawei Ideos line and the HTC Explorer. Compared to that experience, the Nokia Lumia 710 would feel like a premium offering to these users because of the higher end hardware specs it offers. But these luxuries do have a price – the Lumia 710 costs nearly twice as much as the rest of these low end Android devices. What I'm going to analyze today is that whether Nokia has managed to strike the perfect balance between features and price to make a strong value proposition for mid to low end market range.
Hardware and Internals
You don't need to look for a distinctive Nokia logo on the 710 to tell that this phone is designed by Nokia. The physical design of the Lumia 710 embodies the distinctly Nokia industrial design from recent memory. In fact, it really isn't difficult to trace the genealogy of the 710 back to the likes of the Nokia 5800 or more recently, the Nokia C7 line.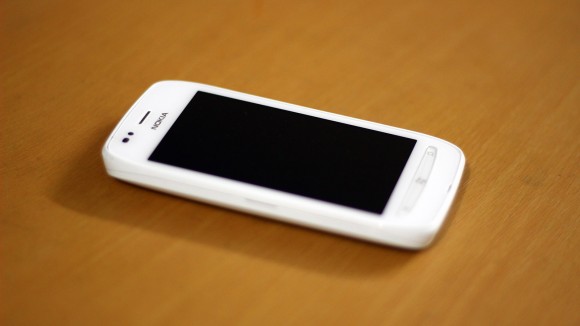 Windows Phone hardware specifications dictate the buttons and their placement on the device and the Lumia 710 stays true to that. The standard Windows Phone buttons for Back, Start and Search are present and accounted for, but Nokia opted to go with physical buttons instead of capacitive one common these days.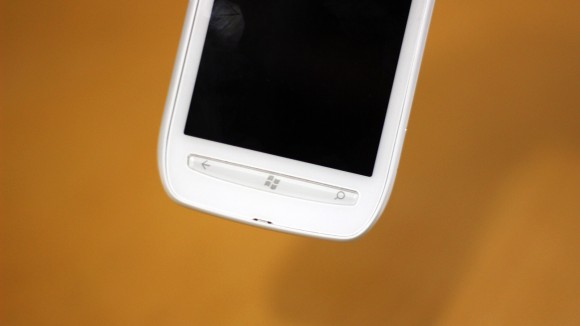 While this solves the problem of accidentally hitting back or the search button when using the device, it does require some extra force when you actually do need to press these buttons. Apart from the plastic strip containing the buttons, the entire front surface of the phone is covered in glass. While there isn't a front camera on the phone, the top side does have notches for the ambient light sensor and the proximity sensor.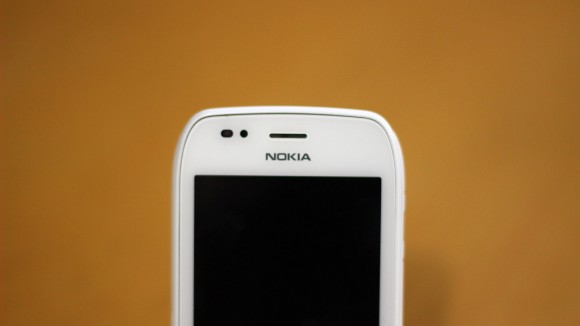 Speaking of the top side, the Micro USB port and the 3.5mm headphone jack are also located on the top along with the wake/sleep/power button. The right side of the device houses the volume rocker and the mandatory two stage camera button. The volume rocker buttons are notched up a bit and are relatively easy to get a feel of, but the power button and the camera button sit flush with the device which makes them harder to press with confidence. This issue is specifically pronounced with the camera button since the Windows Phone hardware requirements mandate a two-step button, with a half pressed state to trigger the autofocus.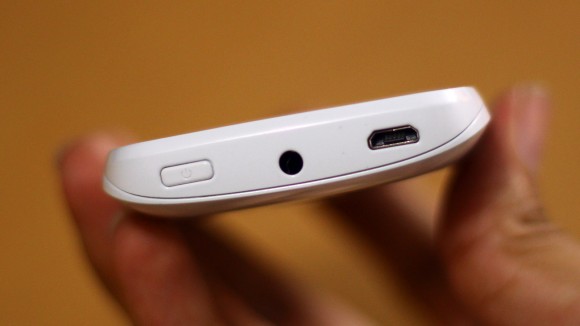 The camera itself is prominent on the back side of the device and an LED flash sits right next to it. Nokia is using a 5 MP sensor here and it doesn't feature Carl Zeiss optics, which is in line with other mid-range Nokia offerings. What's interesting is that there isn't any mention of Windows Phone or the Windows Phone logo on the back of the device which is usually standard with all other OEMs. The entire back cover of the device peels off to reveal the 1300 mAh battery and the micro SIM slot. Since this is a Windows Phone 7.5 device, there isn't a Micro SD slot present.
Speaking of the back covers, the Lumia 710 does feature interchangeable covers which come in different colors. The phone itself is available in both black and white as well. Since the phone is made of plastic instead of the polycarbonate shell used in the higher end Lumia's, it does come off as being a bit cheap. Also since the device is about 12.5mm thick, it also feels bulky in hand even though it is only about 125g in weight. That's not to say that the phone has bad ergonomics – in fact it is quite the opposite. The curved back fits really comfortable in your hands and yields a good firm grip.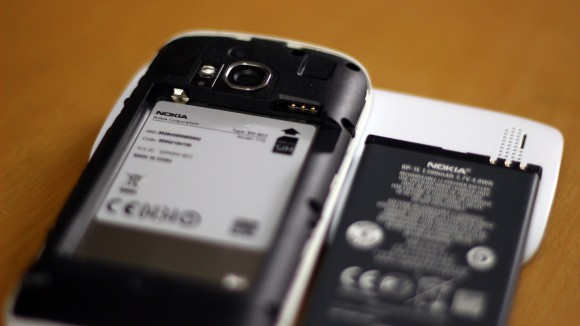 As for the internals, the phone follows the standard Windows Phone 7.5 hardware specifications. It features a Qualcomm Snapdragon S2 chipset with a 2nd generation Scorpion processor clocked at 1.4 GHz paired with the Adreno 205 GPU. Sure it might be 2010 technology but the Windows Phone OS does pretty well to make efficient use of the processing power here and not show its age. The S2 is complemented by 512 MB of RAM and 8 GB of internal storage. While that may appear cramped by today's standard, don't forget that this is a mid-range device and Windows Phone OS has some nifty features that let you automatically upload and sync all your media to SkyDrive (or your computer) and keep the space free on the phone itself.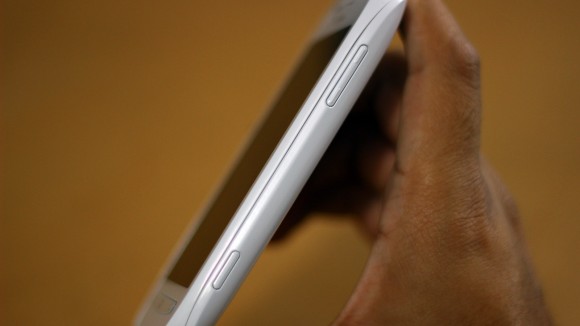 Compared to the first generation devices, the Lumia 710 is 40% to 60% faster than all the first generation Windows Phones. It scored an average of 2679 in AnTuTu, 368293 in OneBench and 91.74 in WP Bench. These scores are in line with devices like the Lumia 800 which share the same hardware internals. In fact, despite being a mid-range device, the 710 comes very close to the HTC Titan, the fastest Windows Phone device right now.
Display and Camera
Nokia isn't using a high cost AMOLED display panel on the Lumia 710 like it is on the Lumia 800 and the 900. In fact, it uses a regular 3.7" TFT LCD here protected behind a Gorilla Glass screen. While the LCD isn't IPS either, it does feature Nokia's ClearBlack display technology which reduces glare in direct sunlight to improve the screen readability. Compared to my Samsung Omnia 7's Super AMOLED display, the Lumia 710 works pretty well under direct sunlight even when the brightness is set to automatically adjust.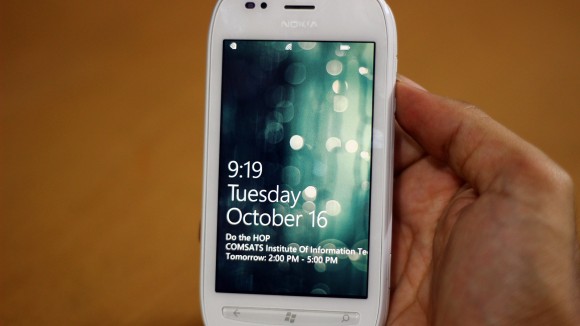 However, color reproduction is a major issue with the review unit I got. The white balance is much warmer with the 710 and shows a clear yellowish tint when the display is set to full brightness. The viewing angles also seem to be an issue on this device with colors washing out when viewing from angles roughly greater than 150⁰. Another bizarre issue with my unit is that the screen sometimes start to flicker when it is in standby. I haven't been able to confirm the cause but the issue has almost completely disappeared after I did a hard reset of the device. Still, issues like these do affect the general consumer and have a negative impact on the user experience even if they occur rarely.
Nokia has a strong legacy of making some of the best camera phones in the market. Right down from the beasty N90 and the N95 to recent spectacles like the N8 and 808 PureView, Nokia's strong relationship with the German optical giant Carl Zeiss usually results in some stellar camera optics. Unfortunately, being a mid-range model, the Lumia 710 doesn't qualify for a premium camera assembly and is limited to just a standard 5 megapixel camera with an LED flash.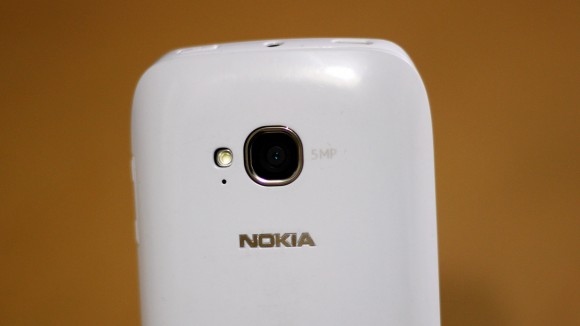 While the photo quality of the Lumia isn't something that would stand out, the camcorder does manage to capture a fair amount of detail when shooting video in HD 720p mode at 30 frames per second. Like almost every other smartphone, the rolling shutter effect is clearly visible here. There isn't any continuous autofocus in play here – in fact, you can't really change focus at all while shooting the video. Fortunately, the camera does perform as good as any other smartphone in the price range so it shouldn't be a deterrent if you're looking for something close to the asking price of a Lumia 710.
Software
The Lumia 710 runs the latest version of Windows Phone 7.5 which happens to be Tango build 7.108779.2. Tango isn't a major upgrade over the earlier Windows Phone 7.5 release called Mango, and only adds some MMS enhancements along with a lot of bug fixes and performance improvements on the OS.
Thanks to Microsoft strict policies, you'd get a fairly consistent Windows Phone experience no matter what device you're using. The only difference you'd notice from other OEM devices are Nokia exclusive apps which you can find under the Nokia Collection section of the Windows Phone Store (formerly the Windows Phone Marketplace). Nokia has a fairly large collection of exclusive apps which range from first party apps like Nokia Maps and Drive to games, news and lifestyle apps.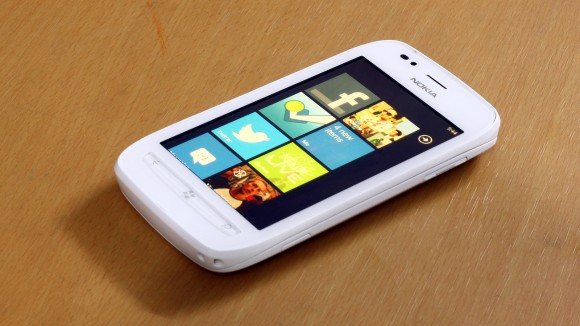 Unfortunately for Nokia, the location based apps they have don't really work very well in Pakistan. Nokia Map's coverage is shoddy at best and Nokia Drive can't really do anything unless it has some mapping data to work on. With all the technical prowess of Nokia's NAVTEQ division, you'd think their own mapping solution would have done a better job. It's a similar case with other apps under the Nokia Collection section of the market. Apps like Nokia Transit are of no use, and while Nokia City Lens does show points of interest in a beautiful augmented reality UI, their location is often a bit off and the coverage isn't as detailed as you'd get from crowd sourced services like Google Places or Foursquare Places. A few other apps like Nokia Music and Groupon also don't make much sense for the local user.
It's not all dark and gloomy however. Nokia Collection does hold some rather interesting and useful apps in the mix as well. Camera Extras and Creative Studio are a must have for photo enthusiasts. The Camera Extras app enhances the capabilities of the built in camera app by adding a couple of distinctive shot modes. One of these is the Smart Group Shot which takes a series of pictures and automatically picks the best one by analyzing all the faces in the group. Another new mode is the Action Shot what takes multiple shots of any fast moving scene so that you don't miss any of the action. Other add-ons include a smart Panorama mode and a Self-Timer.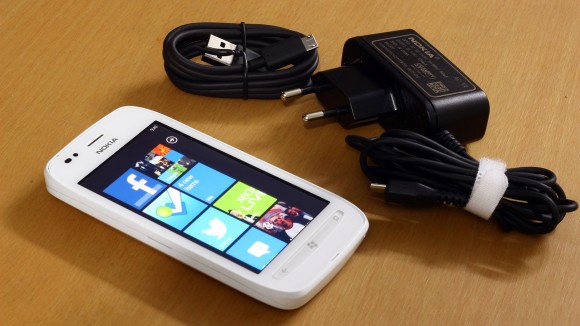 Creative Studio, as the name suggests is a photo editing app with a slew of filters and effects that you can apply to an existing photo or one you can capture from the in app camera. There are a number of image editing options available like crop, rotate and color balance, sharpness etc. as well as a ton of effects which you can apply. Creative Studio also adds some unique live camera effects like face styles, which wrap the image and live styles, which are essentially live filters.
Counters – another useful utility which keep track of your calls, messaging and data usage. You can set limits on each of these items and the app would alert you when you're about to go over. It's really useful for those of us who aren't on unlimited plans. Similarly Contact Transfer, which comes preinstalled on the device itself is a neat little tool which makes up for Windows Phone's lack of Bluetooth contact transfer support by giving you the capability in app. You can import and export your contact with any device capable of contact push via Bluetooth. It is a useful utility for those upgrading from a feature phone since most of their contacts won't be in the cloud.
Battery Life
The Windows Phone operating system is generally known for a very good battery life when compared to similarly spec'd devices on other platforms. That's partly because Microsoft has optimized the software for its strict hardware platform and knows how to extract every single ounce of power efficiency. Generally speaking, all second generation devices managed a battery life of over 24 hours with some (like the HTC Radar) even going strong well into the third day. Lumia 710 doesn't break that trend.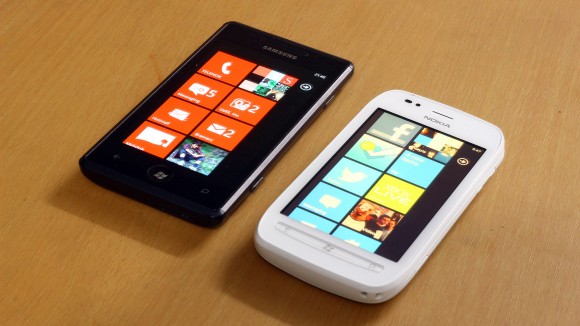 Under normal usage scenarios which included a ton of data usage over Wi-Fi with some moderate use of GPS and the camera, the 710 gave an average battery life of between 24 to 28 hours. This includes all the usual account syncing in real time which includes Facebook, Twitter, LinkedIn, Windows Live, a Microsoft Exchange account and a Google Account along with live tiles for a few contacts and services like Foursquare and WhatsApp on the home screen. Windows Phone does feature a battery saving option under the settings menu, which disables most background tasks and syncing. That option easily allowed over 40 hours battery to be squeezed out of the phone.
Wrap Up
It is never a good idea to launch a device in a new market so late in the end of its life cycle and is usually considered a move of desperation to support a fledging market share. Fortunately, Nokia do plan to keep supporting their Lumia line despite Microsoft discontinuing support for the Windows Phone 7.x line after Windows Phone 7.8 is released. Still Nokia had to get a number of things right if they wanted to have any real chance at the market.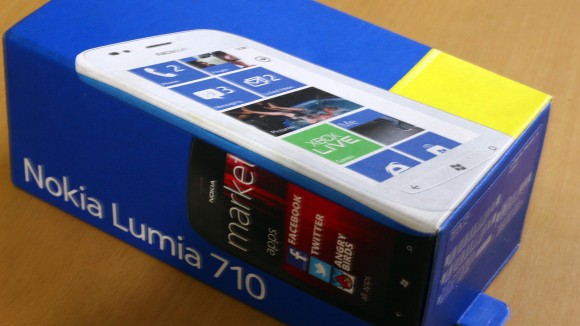 Like I mentioned at the beginning, Lumia 710 isn't really a low end device, nor Nokia's most budget friendly Windows Phone offering (that honor goes to the Lumia 610 for now). So in order to compete with the low end offerings of Samsung, HTC and Huawei, Nokia needed to have features that justified the price for those hunting for a budget friendly device. Nokia does get things right in terms of hardware. The 710 is genuinely magnitudes above the competitor Android offerings in terms of hardware and battery life. And since the hardware is powerful, the operating system and apps also shine on the phone with buttery smooth performance.
Then again, the platform is severely limited for the local market right now and from the looks of it, this might never change for devices on the Windows Phone 7.x track. Features like Xbox Live and the Windows Phone Marketplace don't work out of the box unless you choose some other country as your region. Even still Nokia exclusive services like Maps, Drive or Music really struggle to be of any relevance. Coupled with the asking price of Rs. 25,000 which an average Pakistani consumer would think twice before spending and fast approaching End of Life for the Windows Pone 7.x platform, the Nokia Lumia 710 would be a hard sell for besides a select few looking to jump in to the Microsoft ecosystem.