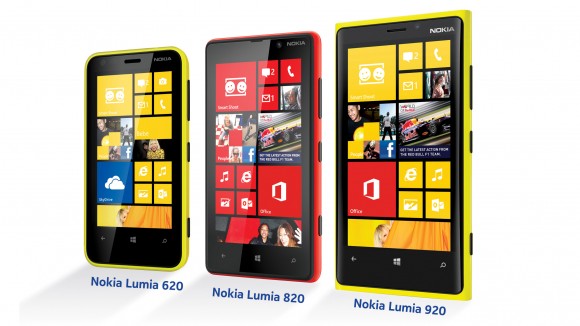 When Nokia announced its second generation Lumia lineup based on Microsoft's Windows Phone 8 operating system, I was among the few people who were genuinely excited about the devices announced. The power of a new hardware generation coupled with the new enhancements in Windows Phone 8 OS and groundbreaking new innovations with technologies like PureView were enough woo any technology enthusiast – let alone a Windows Phone fan. But unfortunately, I also knew that while rest of the world would soon get their hands on the new devices, I'd have to keep my enthusiasm in check for a couple of months at least. After all, it took Nokia almost a full year before they brought their first generation Lumia line up to Pakistan – a market which even Microsoft themselves didn't support during the first two years of Windows Phone.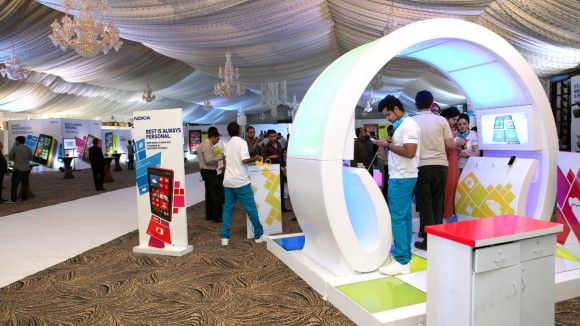 My patience was finally rewarded last week, when I received an invite to attend Nokia Pakistan's #SwitchToLumia event in Karachi, Pakistan. Following the theme Nokia used worldwide, the event served as the official launch of the newest devices in the Nokia Lumia range, which includes the Nokia Lumia 920 as the flagship product, the Nokia Lumia 820 as a more affordable higher end device, and the budget friendly lower mid-range Nokia Lumia 620. Nokia also announced a number of accessories to accompany the newest devices ranging for portable speakers to in-ear headsets and even wireless charging pads. Nokia also announced a partnership with Mobilink to launch the devices, and each Nokia Lumia 920 bought through Mobilink would also come with a free wireless charger.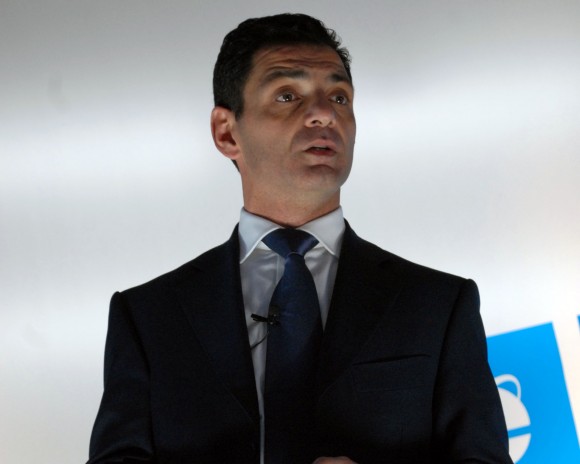 Alessandro Lamanna – Nokia's VP of Marketing for IMEA region – gave brief introduction of each device on the stage highlighting Nokia's strategy to compete with the onslaught of Android devices in the local market. He stressed that Nokia indents to keep its marketshare lead in the region by offering the best experience on each price point. Dunia Othman – Nokia's Marketing Manager for Near East – took the stage next. She highlighted the innovations Nokia was bringing to the Windows Phone 8 platform including Nokia's exclusive Camera Lenses, its PureMotion display technology and its PureView camera. Salman Siddiqui from Microsoft also briefly took the stage to reaffirm Microsoft's commitment to promote the Windows Phone 8 platform in Pakistan – though a little more enthusiasm on his part would have been nice.
Nokia Lumia 920
Lumia 920 is Nokia's current flagship device for the Windows Phone 8 platform (until it announces something new at Mobile World Congress this year). The device is based on the latest Windows Phone chassis specification and has a 4.5 inch PureMotion display with a resolution of 768×1280 at 332 PPI. That's more pixels than what is usually classified as a retina display. And to top that off, the display also runs at a smooth 60 fps resulting in a super smooth and fluid motion, a first for any smartphone on the market.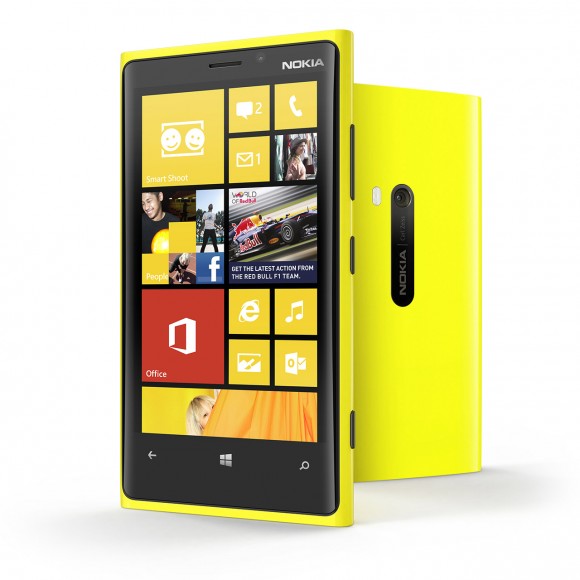 The phone is powered by a Qualcomm Snapdragon S4 Plus chipset running a 1.5 GHz dual core Qualcomm Krait processor and Adreno 225 graphics. The phone has 1GB of LPDDR2 RAM and 32GB of internal flash storage, though there isn't any option to expand that with a MicroSD card. But the Lumia 920's most innovative feature is probably its 8.7 mega pixel PureView camera which comes with true Optical Image Stabilization – another first for any smartphone on the market. Thanks to built in OIS, the phone can take breathtaking shots in really low light, an area where all smartphones and even most point-and-shoot cameras struggle. On top of that, the phone can also record video without the usual "shaking" associated with smartphone camera. And videos don't only look great, they sound great as well thanks to a unique three microphone design to capture multichannel audio and remove background noise.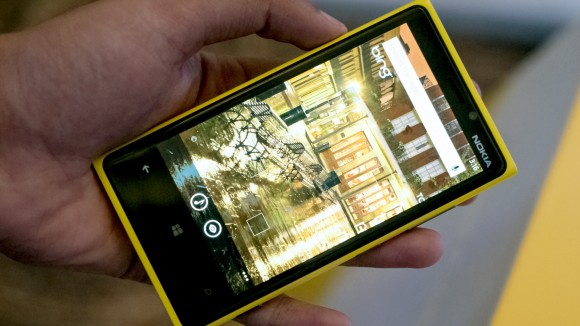 All this hardware is powered by a 2000 mAh battery which is enough to last you through an entire day. They battery isn't user replaceable, but it does come with built in wireless charging. While it's a cool novelty feature to have, its real world usage will depend upon how readily do you leave your phone laying on the desk (on a wireless charger in this case).
A couple of other plus points like support for Wi-Fi Direct, NFC to share files and easily pair with devices and a super sensitive touchscreen which can be used even with gloves on make the Lumia 920 a really competitive package. Its suggested retail price of PKR 62,000 (about $600) might be a little steep, but it definitely seems competitive with anything Samsung, HTC or Apple has to offer right now.
Nokia Lumia 820
While the Lumia 920 inherits the premium polycarbonate unibody design from the previous generation, the Lumia 820 tries to impress with much a much simpler rounded look. While the lack of a unibody design might seem like a little let down, the hard shell covers are interchangeable so you can style your Lumia 820 in any color you want.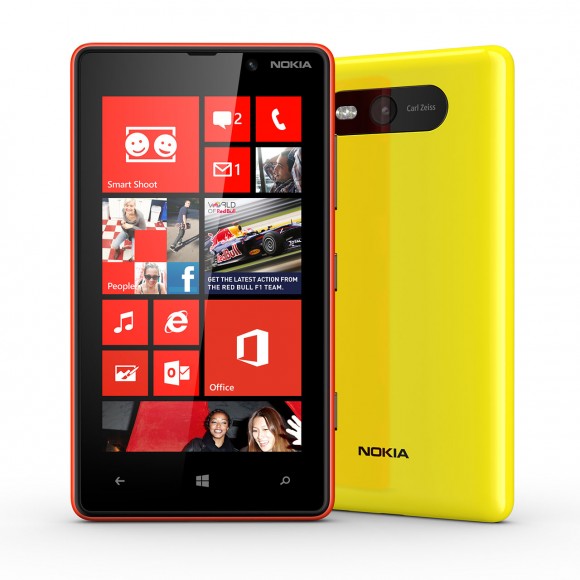 The 4.3 inch phone is also much lighter when compared to its older brother, but packs a less dense 480×800 display. Nokia also uses a ClearBlack AMOLED display on the 820 instead of an IPS panel like on the 920. The phone also has a sensitive screen which can be use through gloves but lacks the 60 fps framerate as featured in the PureMotion display.
As far as the innards go, you'd be hard pressed to tell the Lumia 820 apart from the Lumia 920. Like the higher end device, it also packs the same Qualcomm Snapdragon S4 Plus chipset with 1.5 Ghz Dual-core Krait processor and an Adreno 225 GPU. It also packs 1GB of RAM and 8GB of internal storage though it's expandable via a MicroSD slot to up to 64GB, so there will be lots of room to store music and videos. Unfortunately, Windows Phone 8 doesn't allow apps to be installed on an SD card so you are limited in that department.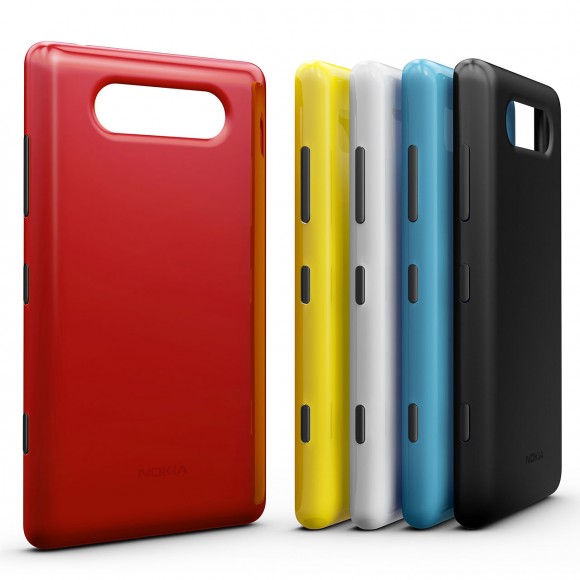 The phone also has an 8 mega pixel Carl-Zeiss camera on the back and a VGA camera on the front. The rear camera is capable of capturing 1080p video at 30fps – a standard on Windows Phone 8. As for the battery, 1650 mAh should theoretically be enough to get through a day but we'll know more once we put the phone through its paces. Wireless charging isn't supported out of the box, but there is an exchangeable cover available for the Lumia 820 to allow it.
Nokia Lumia 620
Both the Lumia 920 and the Lumia 820 seem to be capable and attractive handsets. Yet they couldn't be Nokia's weapon of choice to attack the Pakistani smartphone market. Finding balance between features and an attractive price point is a tough proposition for Nokia and the Lumia 620 seems to address that. At a suggested retail price of PKR 24,800 – the phone seems to be targeted at the budget conscious.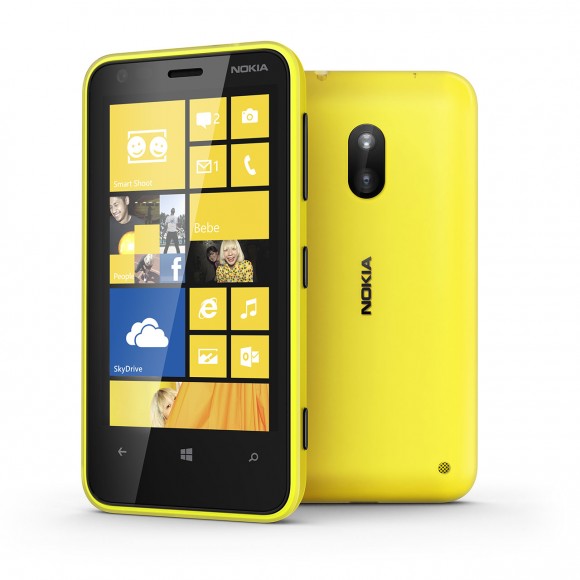 It has a 3.8 inch ClearBlack LCD display, the kind which was featured on the Nokia Lumia 710. It clearly takes some design cues from the Lumia 820 and even has exchangeable shells which feature a unique Dual Shot color blending technique. But being budget friendly doesn't mean the phone can't handle the Windows Phone 8 OS. In fact, Nokia packed the Lumia 620 with a Qualcomm Snapdragon S4 Play chipset featuring a 1 GHz Dual-core Krait CPU and an Adreno 305 GPU.
The amount of RAM however is slightly reduced at 512 MB meaning the device can't take advantage of certain features like fast resume support for multiple apps and the ability to capture video at anything greater than 720p at 30 frames per seconds. The 5 mega pixel camera on the back might not be Carl Zeiss endorsed, but it does seem capable of handling common camera phone tasks.
The phone does have a MicroSD card slot, so it's 8GB internal storage can be augmented by another 64 GB of storage from the card, and 7 GB of free storage from SkyDrive if you sign up. The phone drives power from a 1300 mAh battery. While it seems small at first, keep in mind that this phone is running on a much more power efficient chipset compared to its older brothers, and might even actually outlast them in day to day activities.
It's not clear if Nokia has a winner in the Lumia 620 for the local market. But with features like NFC, Dual Band Wi-Fi Direct, and Dolby sound enhancement – it should have enough juice to go toe to toe with similar offerings from HTC or Samsung.
Services
Nokia makes great looking hardware, but what makes it king of the (Windows Phone) market is its exclusive services it offers its consumers. While all Windows Phone OEMs have options to differentiate on the platform by offering exclusive apps and features, nobody besides Nokia has shown real commitment in doing so.
Smart Shoot
Smart Shoot is a Nokia exclusive camera lens based on the technology it acquired from Scalado. The lens app allows you to pick multiple poses from a photo by capturing a series of images while you compose and then allowing you to pick the best looking face from each one. You can also use the lens to remove moving objects from a scene based on motion detection. It is really a nice little feature to have when you're out for quick shots.
Cinemagraph
Cinemagraph is my personal favorite lens app on the Windows Phone platform. A Cinamagraph is basically an animated GIF image but with a very subtle motion giving a feeling of nostalgia. A well composed cinemagraph can have a lot more powerful impact compared to a simple photo with filters applied. This built in camera lens makes the process of creating cinemagraphs painless. All you have to do is capture a video and then pick up to three points of motion which you want to retain. The app does the rest.
Nokia Maps and Drive
While Nokia's mapping innovations do give it an edge in most parts of the world, they are pretty much useless here in Pakistan. Apart from showing some very basic roads, the maps don't provide much information so turn by turn navigation is out of the question. I did ask the Nokia team about what they were doing to bring the mapping platform to Pakistan, and they reassured me that they are working with the government and coming up with a legal way of bringing those features to Pakistan. Google has been able to avoid government scrutiny thus far by relying on crowd sourcing, so we'll just have to wait and see how Nokia plays its game here.
Conclusion
While Pakistan might not be a tier one market for Nokia to launch its newest smartphone series, it still remains a very important market and more importantly, one of the very few markets where Nokia is still a dominant player. But that is changing quickly as more people are moving away from Symbian towards Samsung's Galaxy lineup while doing their best to steer clear from Windows Phone.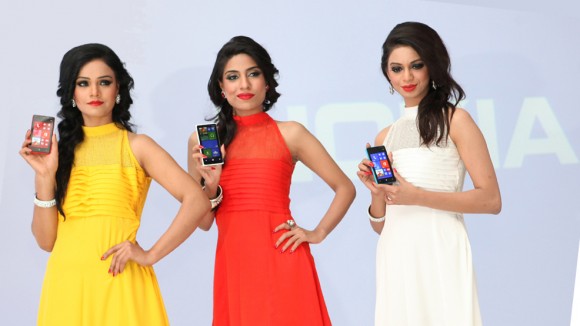 After playing a couple of minutes with all the new Lumia devices, it is clearly obvious that Nokia still knows how to make great hardware. But just a quick look at the current market conditions point out clearly that hardware alone does not cut it – in fact it is the full combination of software and services as well which makes up the ecosystem and Nokia, along with Microsoft has a long uphill battle in a market which until recently hasn't warmed up to Windows Phone thus far. And I for one would love to see Nokia back in the game and challenge the perception about Windows Phone.