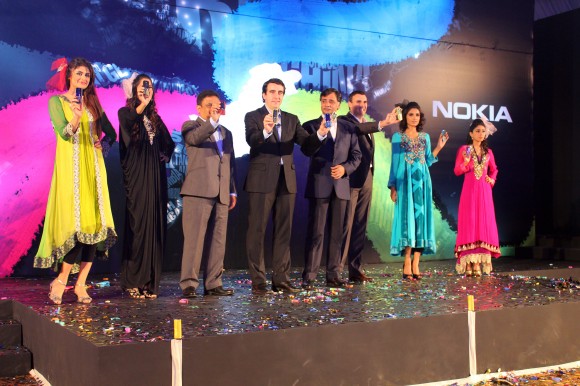 Launch events for the latest gadgets and toys are hardly any surprising news, but when I got invited to a Global Nokia launch event last week, my interest was piqued more than usual. This didn't have anything to do with the fact that there we were going to be treated to some mystery new products or because Nokia was going to unveil some brand new services – it was mostly because, for the first time ever, Nokia was going to hold a Global Launch event from Pakistan instead of its usual choice markets like its European home ground or bigger key markets like China or India. Needless to say, expectations were high and excitement was through the roof when all the media and the blogosphere from across the globe gathered at the Karachi Marriot to witness the launch.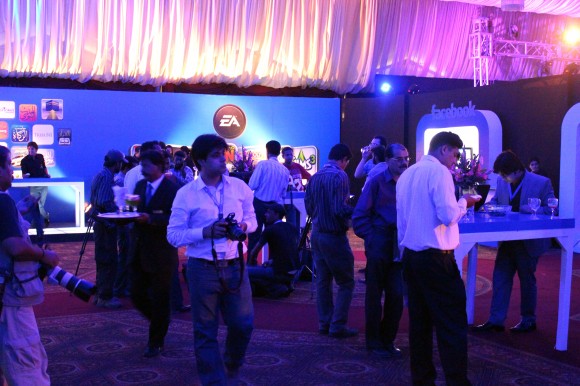 The event planners and organizers had paid great attention to detail matching everything from the overall theme, the décor and lighting to music and even the drinks served to the design and color themes of the launch devices. The small socializing session, which ensued while we waited outside the event hall, was filled with speculations from being a new Lumia device all the way down to a PureView or an Asha phone – though everybody failed to call it right this time.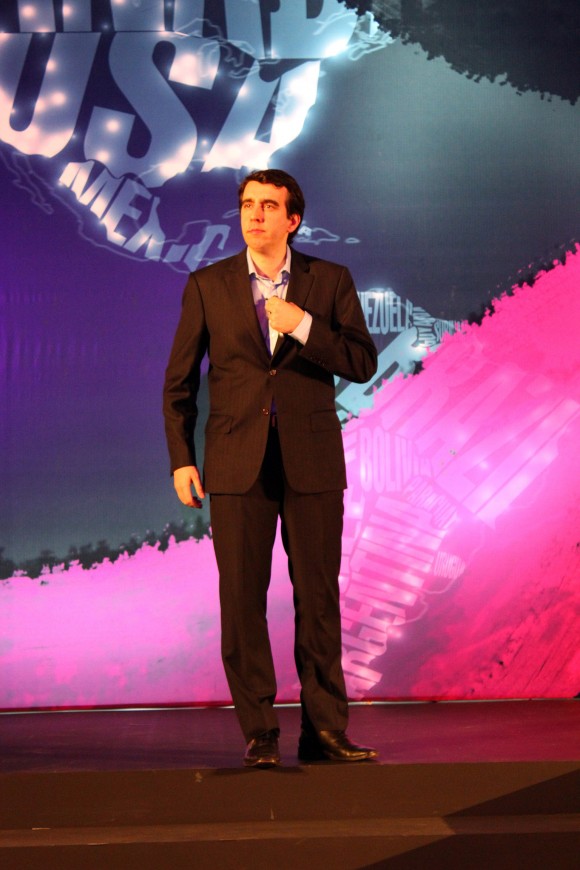 Nokia kicked off the launch keynote by reiterating their Next Billion strategy which they have been preaching for quite a few months now. Saulo Passos, Global Director for Mobile Phone Communications at Nokia made the case that why the lowest end of the market matters for Nokia and shared some interesting stats about the economics of budget constraint economies. Nokia's game plan at this tier seems to be focused around ubiquitous and cheap access to the internet, an aspirational product portfolio, and partnering with local content providers in key markets leverage the local market economies. He also talked about how Nokia plans to execute on each of these strategic pillars this year and years to come. Unsurprisingly, this included bringing higher end features to the lower end by bringing cheap internet access to low cost (less than $40 devices) as well as cloud powered web browsing and apps.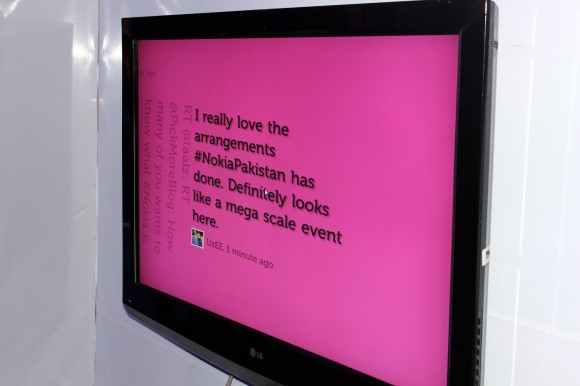 A recurring theme during the presentation was that how Nokia has penetrated the localized markets and how much success does its unified Nokia Store has, which now boasts over 100,000+ items in its catalog. You should probably take that figure with a grain of salt though because it also includes items like wallpapers and ringtones and doesn't always necessarily mean apps. Regardless, Nokia seems to understand the value of the localized markets and is willing to work with service providers to enable convenient features like operating billing for instance. Another point worth noting was that the share of Series 40 devices accessing the store went from 12% last year to 30% in 2012. Though I'm guessing that increase had a little help from the fact that at the higher end, Nokia has started pushing its Windows Phone based Lumia series which relies on the Windows Phone Marketplace instead of the Nokia Store.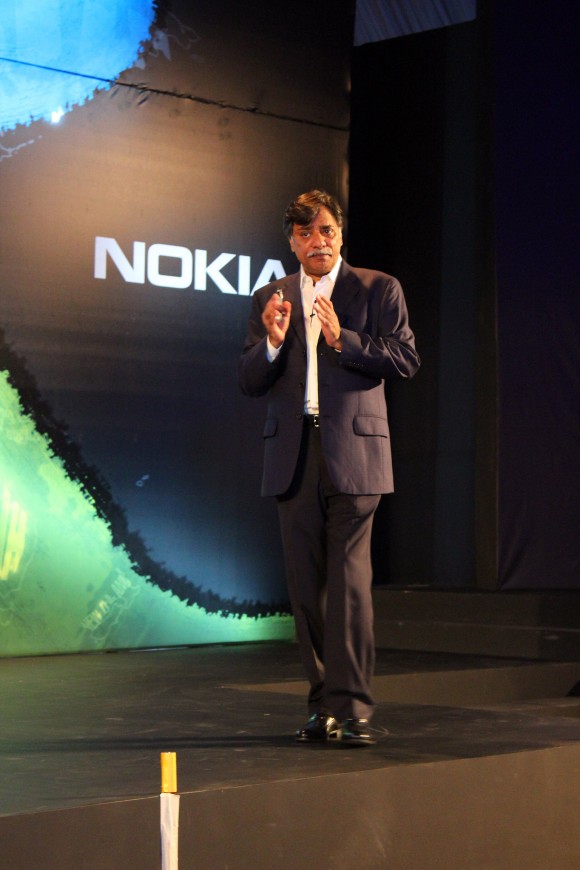 Next up, Nokia's VP for Near East, Imran Khalid Mahmood, took to the stage to share what does reaching out to the Next Billion mean for the local Pakistani market. He was quick to mention that a major chunk of internet users in Pakistan are having their first internet experience on a Nokia mobile device, instead of a traditional PC. Also worth mentioning was there have been 67 million downloads from the Nokia Store in Pakistan alone with over 1 million of them being Islamic apps and over 1.5 million for social networking. Locally developed apps like Cricket Companion also have over 10 million downloads worldwide. Imran Mahmood reaffirmed Nokia's commitment to the local Pakistani market and reiterated that this global launch event was a sign of things to come.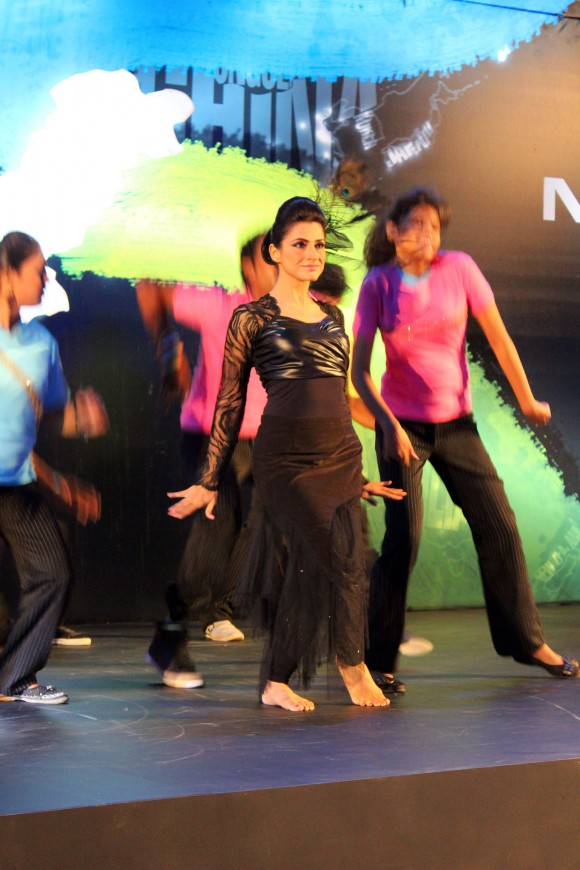 After setting the context for the launch, the new devices were finally unveiled in series of dance numbers and musical performances with models carrying out each separate color of a device to a different beat and tune. This certainly was a rare occasion for a product launch and reminded me of Microsoft's Cirque du Soleil performance for the Kinect for Xbox 360 launch event at E3 2010. Once the artificial fog, fireworks, confetti and music settled down, Nokia's Calin Turcanu, Head of Mobile Phones Business Unit for the Middle East and Africa showed off some of the key features of the new devices.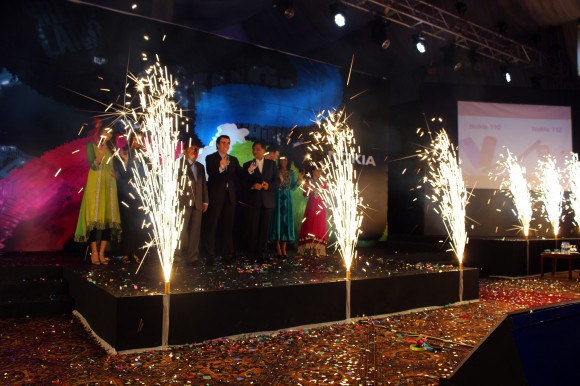 Both the Nokia 110 and 112 are Dual Sim devices with Nokia's Easy Swap technology which allows you to swap SIM cards without removing the battery or turning off the phone. Each phone can also remember up to five different SIM cards to store your personalization preferences. Other specs on the device, while not head turning, are still pretty amazing for a €35 (PKR 3800) device. The phones feature 1.8" screens with a resolution of 128×160 and also feature a VGA camera for photo taking with the Nokia 112 also capable of making Videos. The internal memory is on the low side – 16 MB in total, but these devices do support MicroSDHC for total storage capacity of 32 GB. Both phones will come bundled with 2 GB memory cards apparently.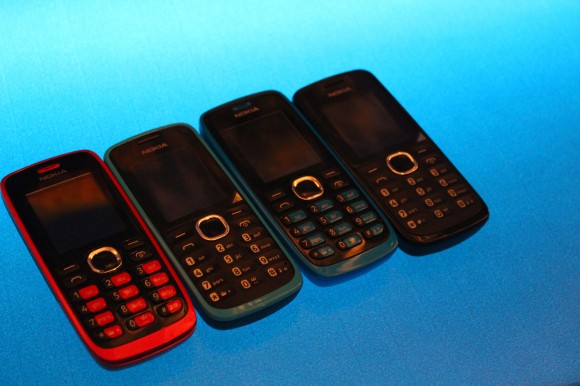 While there aren't any 3G radios in these devices, they are EDGE capable and contain a brand new Nokia Browser app which uses a proxy server to handle requests and can compress the response by up to 90%. This is a really nice way to drive down bandwidth costs while also avoiding any internet censorship issues that often plague the country. And just in case if you are wondering, yes this technology is exactly like Opera Mini or Opera Mobile with turbo mode, but just built natively into the browser. There are also direct home screen shortcuts to popular social networking apps like Facebook and Twitter, while eBuddy cross platform chat messenger app come preloaded in the device.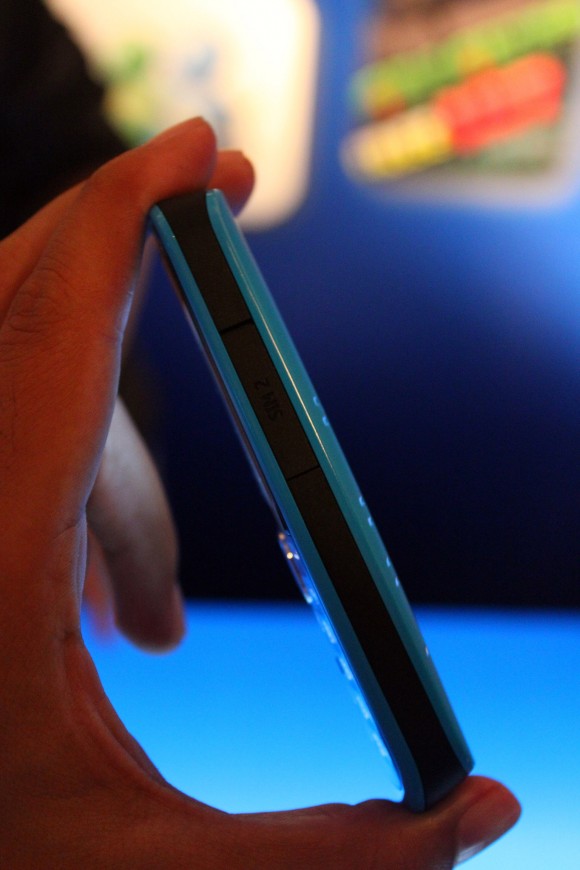 And since we are on the topic of preloading, Nokia is also bundling access to over 40 EA Mobile games to these devices for free. These games include popular titles such as Need for Speed: The Run, Tetris, Bejeweled, Monopoly and SimCity Deluxe among many others and comes close to a €75 value. It's good to see that Nokia / EA partnership has finally started yield something other than press releases and statements by high level executives. There was some mention of these apps being accessible from the cloud though I'm not really clear on how that works. I guess I'll have to wait till I get my review unit to get a better idea. Oh and I guess it should go without saying that the Nokia Store is fully accessible from both devices and you can easily download more apps for your phone if you need to.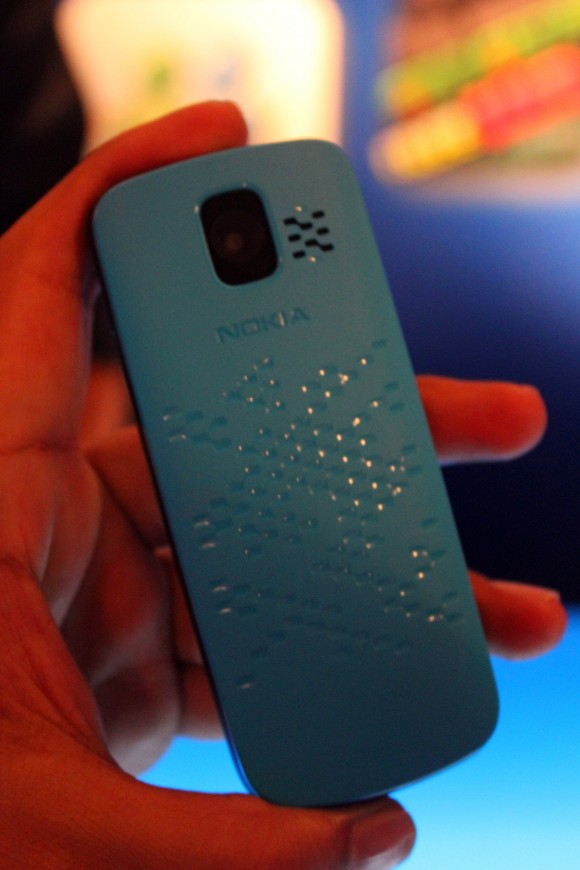 Apart from these features, the phones come with the standard features of Bluetooth, FM Radio, a long battery life with over 10 hours of talk time and come in different colors to suit your style. The Nokia 110 will be available in June and cost €35 (PKR 3800), while the Nokia 112 would start shipping in Q3 with an estimated retail tag of €38 (PKR 4300). Both devices have a single SIM variant for European markets called Nokia 111 and Nokia 113 which would launch alongside their Dual SIM brothers at the same price points.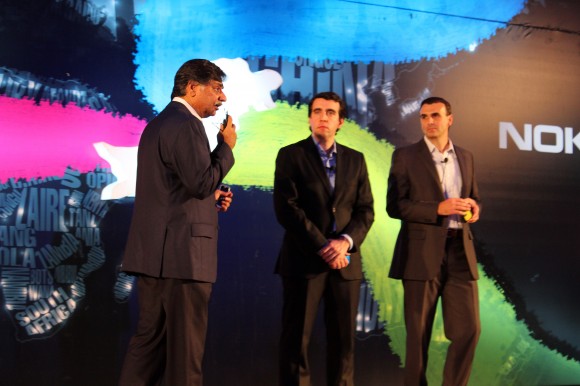 The event was wrapped up by a Q&A session where the Nokia officials were queried about their long term strategy and commitment to Pakistan. The long and short response was that Nokia is committed to the local market more than ever looking to battle at all the fronts from the low end (now being encroached by the nameless Chinese handset makers) to the high end, which is increasingly falling to an onslaught of Android devices by HTC, Samsung and Huawei. How successful this strategy turns out to be in the long run remains to be seen but Nokia has definitely set the stage right by showing that it does believe Pakistan to be a key market for its business. Now only if they launch their Windows Phone 8 based Lumia devices here first…
Gallery