Microsoft is all set to reveal the final version and name of its innovative gesture based control system, Project Natal for the Xbox 360 in two days at E3 2010. While we would finally all the details, including pricing and release dates for the Xbox 360 version, the PC version for Project Natal is still up in the air.
Like I posted about an year ago, Microsoft's own Bill Gates had confirmed that Project Natal would be coming to Windows PCs – however he never gave even a rough time frame of when could we see it in action on our desktops, or what exactly the use cases may be. But looks like we finally have made some progress on that front as well thanks to my Manan who dug up a couple of interesting looking patents filled by Microsoft related to a Natal implementation on Windows PCs.
The patents talk about the ability to control the PC with voice and gestures being recorded by a camera system. The particular scenarios described in the patent involved the user issuing a voice command followed by a gesture as further input. For example, the user saying move or scroll followed by moving his hand in a particular direction to move or scroll the window.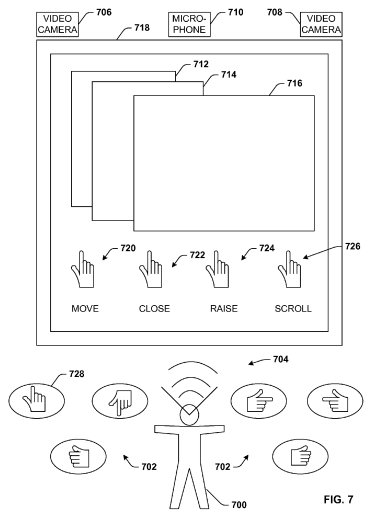 Of course that is just one particular scenario and the potential uses are limitless. Another scenario Manan described involved controlling boardroom presentations by making annotations or giving demos via gestures along with realtime communication/conferencing. That's something pretty much related to the Microsoft Office Wall prototype I also talked about last September. Maybe the project is coming out of the research and prototyping stage and ready to move forward into commercial development.
Whatever the case may be, I have a hunch we would find out a lot more about this during the summers while counting down to the launch of Project Natal for the Xbox 360. Hit up the source link to read more about the patent fillings and a lot more illustrations demonstrating the concept.