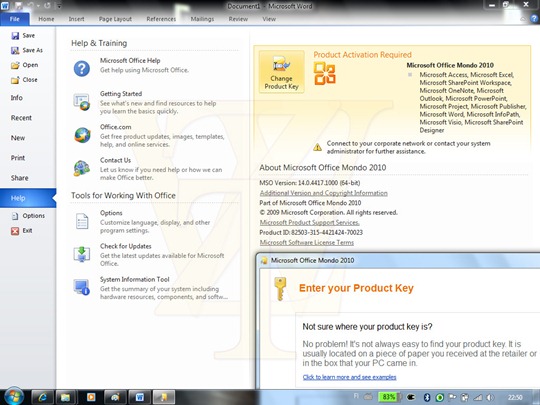 Update: Office 2010 Beta build 14.0.4536.1000 has been released for public download.
Update 2: Office 2010 RC (Release Candidate) is now available for download.
I just opened Word 2010 Technical Preview to write a report when the thought about a possible new leak crossed my mind. And a quick visit to one of the prime locations for such underground activities revealed that my gut feeling was actually true – Microsoft Office 2010 Build 4417 has been leaked into the wild.
The source of the leak can easily be traced thanks to the heavily watermarked images. While I couldn't get my hands on the leak yet (there was no download links), the screen shots I got show some of the new additions into the Office Suite.
Most notably, the Back-Stage view has been enhanced and looks like has pretty much reached in its final form. Plus there is a new Upload Center to store and share your documents online. I'm not sure if that's the Office Web Apps or just the Office Live Workspaces. Other additions I spotted include an improved Activation system and newer icons for all the Applications.
I've added a couple of screenshots below for you're viewing pleasure. Oh and if you spot something new in the images, please do share that via the comments.
All the images are via WZOR. And sorry I won't be providing any download links, so please don't ask for any. I'll have more updates once I try out the new version so make sure you subscribe via the button below.