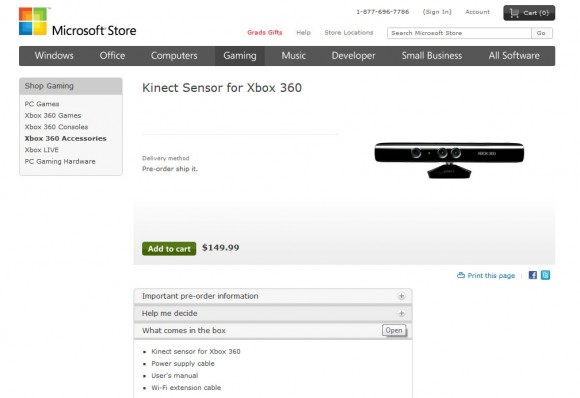 Well this is a lot sooner than expected, but I just found out that Microsoft Kinect is now up for Pre-Order online at the Microsoft Store site. The $149 cost is pretty much inline with rumors and pretty reasonable in my opinion.
Although I must say that I am a bit disappointed that it wouldn't come bundled with a game or two like Wii came with Wii Sports but I guess Microsoft might offer a slightly more expensive game bundle around the release date, which happens to be November 4.
There were also rumors of a Kinect bundle with the new Xbox 360 S but so far none of them have been confirmed officially. The said bundles would feature Kinect along with an Xbox 360 S Arcade or Xbox 360 S Elite for $299 and $399 respectively. I guess we'll just have to wait and see if they do pop up.
As for myself, I'd definitely be getting Kinect but I'm waiting for a bundle with Xbox 360 S Elite before I jump in. I'm guessing that would only happen around October. But you can pre-order for yourself right now if you want by hitting the source link below.