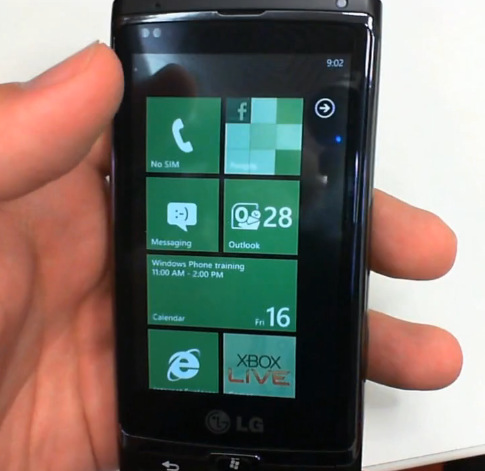 While I don't think the LG Panther would be one of the hottest Windows Phone 7 devices in development right now – it still is a satisfying experience seeing it running a basic walk-through of a newer build of the upcoming Windows Phone OS.
Since the video is in Ukrainian (or Russian), I can't really figure out what they are saying but I'm sure its along the lines of "this is still a pre-beta build hence the minor issues". On the same note, this isn't exactly the same build as the one released with the Windows Phone Developer Tools Beta earlier this week, though I can't say if its exactly newer or older.
I did notice a couple of new UI effects while flicking through long lists like in the People's hub which make the overall UI more appealing. It looks like there were some network issues where they were testing, but hopefully its not a hardware/software issue like the iPhone 4 Death Grip. I've embedded the near 9 minute video below so do share anything you find different in this build of Windows Phone 7 or what they are saying if you understand the language via the comments below.
By the way, I couldn't help wondering whether the video was shot in a very lame frame rate or the LG Panther is actually made of some sort of Liquid Metal?
Update
Sadly, that was just a lame frame rate, since a new demo video shot in HD clears that up.