iOS 4.0 was recently released by Apple, and as expected, the jailbreak community was pretty quick to pounce on the latest firmware by releasing the unlock for all basebands, as well as a couple of teasers for the Jailbreak itself.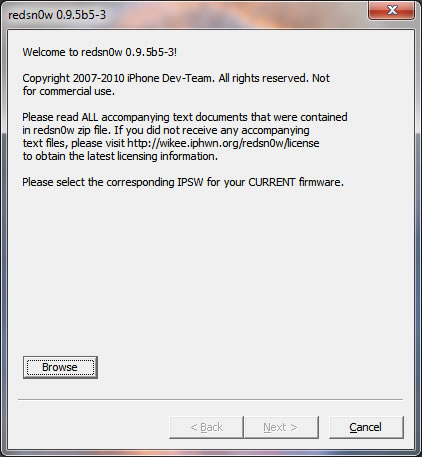 Now the iPhone Dev Team have released new versions of redsn0w – one of the many jailbreaking tools for the iPhone 3G, iPhone 3GS, iPod Touch 2G and iPod Touch 3G. The latest version of redsn0w – while still in beta phase – can Jailbreak iPhone 3G and iPod Touch 2G running on iOS 4.0. There is still no ETA on when redsn0w 0.9.5 would be able to Jailbreak iPhone 3GS and iPod Touch 3G, but we are guessing its coming around pretty soon. You can also Jailbreak your iPhone 3G/3GS and iPod Touch 2G using sn0wbreeze 1.6.
To Jailbreak your device, you need to:
Download the original firmware (IPSW file) from Apple for your respective device.
Download and run redsn0w 0.9.5b5-3 (download link in the box below).
Load the firmware in redsn0w to patch it.
Select Install Cydia, Enable Multitasking, Enable Homescreen Wallpapers and Enable Battery Percentage.
Follow the the instructions to boot into recovery mode and let redsn0w take care of the rest for you.
Once your phone reboots, ensure that Cydia is there and working properly.
If you want to use your device with another carrier then you can find the instructions to unlock your iPhone on all basebands here.