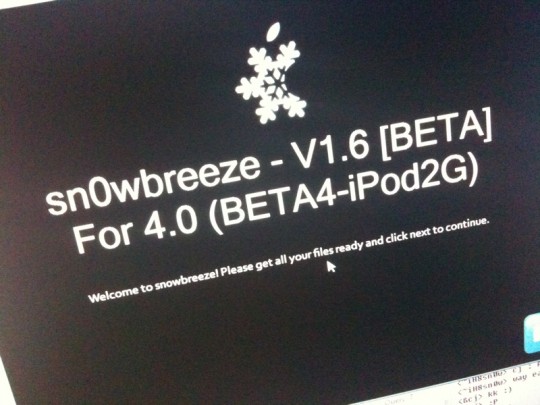 The 2nd generation iPod touch might not be able to run the iPhone OS 4.0 in full force, but that wont keep it from getting a jailbreak. iH8sn0w just teased us with a screenshot of sn0wbreeze  1.6 Beta which can jailbreak the iPhone OS 4.0 Beta 4 on the iPod Touch 2G.
While the final version of the iPhone OS 4.0, due to be announced on WWDC 2010 Â is still over a week away, there really is no reason for you to not to try the beta version if you happen to have an extra iPod Touch 2G laying around. Its not like the device would be of any good use after version 4.0 hits.
For those who don't know, iPhone OS 4.0 would finally be bringing a few long awaited features to the iPhone including Multitasking, and a social gaming service, called Game Center – much like Microsoft's Xbox Live. Other possible improvements include support for larger screens (coming with the iPhone 4G) and a centralized advertising platform, iAd which promises a better experience for both the users and the advertisers.
There is still no exact ETA on the release of sn0breeze 1.6, but we will keep you posted.
How to Jailbreak using sn0wbreeze
You can follow our step by step guide to Jailbreak your iPhone 3G/3GS and iPod Touch 2G using sn0wbreeze 1.6.
Update
According to a follow-up tweet, the picture was never meant to go public. That doesn't mean that sn0wbreeze 1.6 will not be able to Jailbreak iPhone OS 4.0 – it just means that iH8snow is just waiting for the official launch of the iPhone OS 4.0 before releasing the jailbreak.
Its a good security measure in my opinion because we wouldn't want Apple to plug-in those security holes at the last minute now would we. And I think we all know that even if they do manage to do that, someone would just find another one. We'll keep you posted. Thanks for the update tip CJ.
Update 2
Final version of sn0wbreeze 1.6 to Jailbreak iPhone 3G/3GS and iPod Touch 2G/3G would be coming later today.
Update 3
You can now enable multitasking by Jailbreaking your iPhone 3G and iPod Touch 2G with redsn0w as well as unlock your iPhone with ultrasn0w.