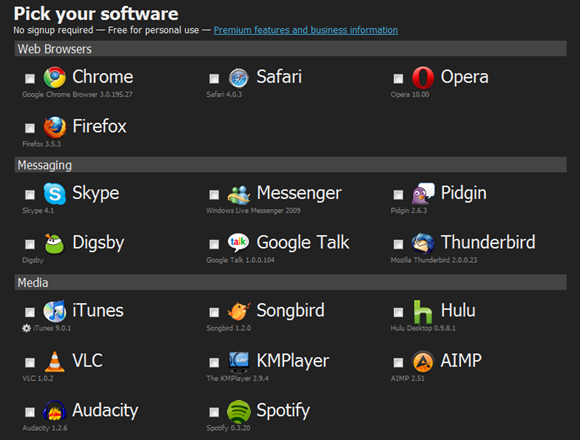 Planning the big move to Windows 7? Or you just want to do a clean install of your current operating system – Ninite is an application you should look out for.
Ninite lets you install all your applications from a single installer, all at once. This makes OS reinstallation really simple because you wont have to sit on your PC and install all the software. It gets even better, as Ninite lets you perform unattended installation, so you don't even have to answer those annoying prompts and click next on wizards.
All applications are installed with their default options, plus Ninite is vigilant enough to skip all adware related prompts like toolbars etc. You get fully configured, squeaky clean installations.
All you have to do is go to Ninite's website, and select all the applications you want to install. It will then build a customized installer for you. Download the installer, save it to a USB drive and then install/reinstall your operating system. After the OS installation is complete, just plug in the USB and run Ninite. Kick back and relax or reward yourself with a snack while Ninite handles all the dirty work for you.
It supports all sorts of common applications, browsers, tools, antivirus, media applications, utilities etc. All applications are in their latest versions. The popular ones include:
Google Chrome, Firefox, Safari, Skype, Windows Live, Pidgin, Thunderbird, WinRAR, iTunes, VLC, Google Earth, Hulu, Paint.NET, Microsoft Office, Adobe Reader, uTorrent, Security Essentials, Avast, AVG, Flash Player, ,NET Framework, Silverlight, Dropbox, RealVNC, Python, FileZilla, WinSCP, PuTTy, Java, Eclipse, JDK, and a lot more.
That is pretty much all the basic stuff you need their. Just hop on over to Ninite and configure your customized installer right away. Happy upgrading to Windows 7! Oh and here is an awesome FREE theme pack for Windows 7 to celebrate it.