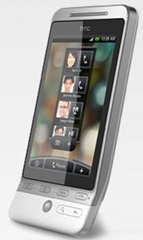 The Android Community got their hands on an unlocked HTC Hero, a little earlier. Though the device would be launching pretty soon in Europe, it would take a while before finding its way around the rest of the world.
The video shows different aspects of the HTC Sense UI from the perspective of a consumer – and believe me it looks great. Just seeing the video got me asking for more, and I just can't wait to see how the device handles multi-touch input.
Spec-wise and design-wise, it is the most decent Android Phone yet but does the do well enough to keep up? In most cases yes. The device seems pretty responsive, though not as much as the Pre but its good enough. The OS is nicely tucked away under the interface and you can actually apply different themes to it, which is a good thing.
So without further to do, here is the video via Android Community.