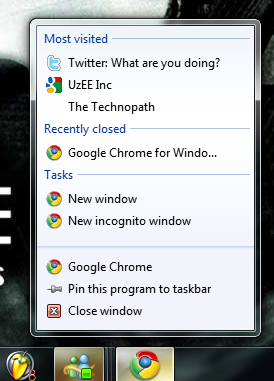 The latest developer build of Google Chrome gets Jumplist support in Windows 7 – and that too against all my expectations. I was hoping that the recently released Firefox 3.6 Alpha 1 would have Jumplists support before any other browser like Google Chrome, Opera or Safari – but I guess I was asking for too much.
The Jumplist tasks aren't very different from what you get on Internet Explorer or Firefox with WinFox installed. You can open a New Window or a New Incognito Window for hassle free p0rn. And you also get the usual MRU lists as well – something which I have never personally used myself.
Even though Jumplists is a pretty useful feature, I haven't run into any third party application making good use of it.
Oh and Google Chrome has only added support for Jumplists yet, not Aero Peek, so don't get your hopes too high.
Coupled with a ton of other UI updates, Google Chrome 3 is looking out to be one hell of a browser, though it still won't take Firefox's place on my machines.
[via itd]