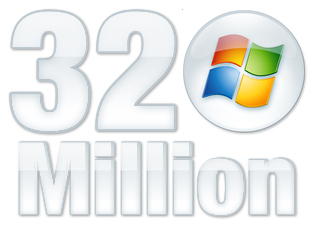 MySpace has long been rubbing it in that if it were a country, it would be the 5th largest in the world with a population somewhere between 200-250 million. Facebook isn't that far behind either, which also hit the 200 million mark recently. But what if I tell you that the largest online community in the world is the one you would actually never expect; Windows Live.
I came across this while reading a research article I came across via LiveSide. The article, recently published by Microsoft summarizes a research study they conducted on the European internet market. While the focus of the research was something else, I did find some amazing numbers that reflect how well Microsoft is doing in keeping up with its claims.
The main focus of the article was the fact that by 2010, people in Europe would be spending more time doing online activities than watching television. This would benefit from Microsoft's effort in unifying the PC, Mobile and the Web experiences into one, allowing seamless access of resources and information from any device, be it a computer, a smartphone, a video game console or anything in between. While the article contains many facts and figures to support those claims, the thing that appealed to me the most was about the Windows Live community.
The article states that over 320 Million users exchange 8.2 Billion messages everyday. That tips 5% of the total internet traffic to the MSN messaging service. This makes it the number one Instant Messenger in the world, (I know it because I love it). What was even more interesting is the fact that Windows Live Hotmail is still the number one webmail service in the world, responsible for over 271 million emails sent everyday. I personally don't have a Hotmail account and If it were up to me, I would have put my money on Gmail as the biggest webmail service in the world.
Now if that wasn't overwhelming already, you would be surprised to know that the total Windows Live community user base is almost half a billion (nearly 500 Million). That is twice that of Facebook or MySpace. If Windows Live users decide to for a country one day, they would be ranked number 3 in the world in terms of population.
All these facts give a pretty good idea of how well Microsoft is going with their plans to unify the rich internet experience and make it accessible for everyone. I just wish they throw in a better (non-trident) web browser and the whole world would be theirs for the taking. Oh and just to let you know that these claims were made after long careful studies, not like random shots in the air like those Linux folks recently did. I left you a presentation extracted from that article below.