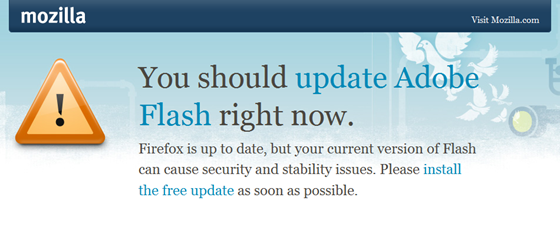 Firefox is getting a brand new feature with its next service update – Firefox 3.5.3 (No they won't call it Firefox 4.0 just because of one new feature). It will warn users about outdated plugins, starting with the insanely popular Adobe Flash Player in the upcoming update.
As the Mozilla Developer blog points, about 80% of the users are running an outdated version of the player which is but surprising and alarming in my opinion. Of course I don't expect everyone to upgrade to alpha/beta builds like I do but still, at least keep up with the latest stable release. Keeping your software up to date means your safe from most known vulnerabilities which may harm your computer or information.
In fact I'd advise you to update all the software you have installed including your OS. But spend wisely because certain $29 updates my just get you into more trouble.