Just as Microsoft had promised, they have just launched the beta version of Windows Phone Developer Tools after releasing two CTP versions in March and April. The Beta version is almost feature complete and is compatible with the developer handsets Microsoft would start shipping next week.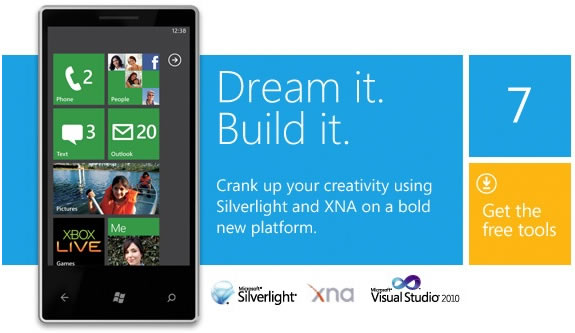 This release is also compatible with any English language version of Visual Studio 2010 RTM you have installed and would integrate the Windows Phone tools with your existing Visual Studio 2010 installation. Of course the tools are incompatible with any previous versions of themselves so you better uninstall the previous CTP version if you had any.
Other requirements include Windows 7 or Windows Vista Service Pack 2, 3GB of hard drive space, 2GB of RAM and a DirectX 10 compatible GPU if you plan to develop XNA games. This release also includes Expression Blend for Windows Phones within the package though it doesn't integrate with Expression Studio 4 yet. There's also a fair share of breaking changes with this release (usually reorganized namespaces and libraries) so make sure you update your apps accordingly.
If you're interested in trying out Windows Phone 7 on the emulator, then you can find the download link for the tools below.