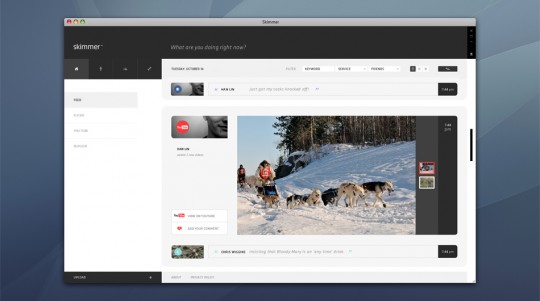 You'd run into a lot of Lifestreaming services these days. You know the ones that take your Tweets and your Flickr photo stream and mix them up with your Facebook news feed and Last.FM scrobbles. A lot of services let you do that now, and they come in all shapes and sizes, like FriendFeed fr example. Even though there are a lot of services that can mash up your social activities, and publish them to the web, we still haven't run into a lot services that make good use of those streams.
Skimmer is one example. This beautifully designed Adobe AIR application by Fallon gathers your social streams from different services all in one place; for pleasurable viewing.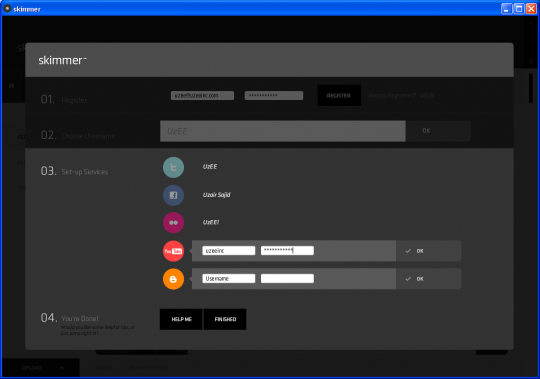 And that's just about it. All it lets you do is to view those streams. There isn't a whole depth of functionality in here, just a simple reader that lets you view your updates from Twitter, Facebook, Flickr, YouTube and Blogger. You can update your Twitter and Facebook status, Upload photos and videos to Flickr and YouTube and can also browse to a certain extent.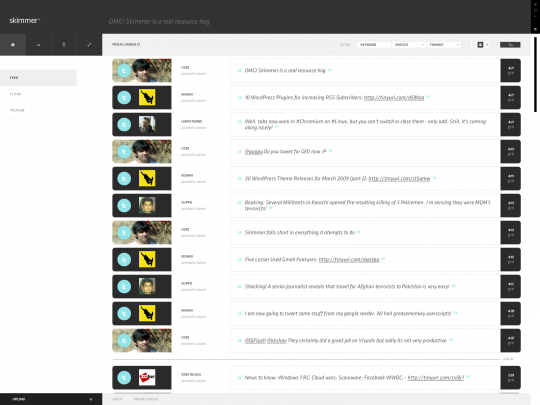 The built in Twitter functionality is quite simple. You can reply, retweet, send a direct message etc, but it falls short of covering the whole Twitter experience like DestroyTwitter or TweetDeck. TwitPic is there but it lacks a Spellchecker and search API support. So if you're looking for a good desktop Twitter client only, then you are better off looking in some other direction.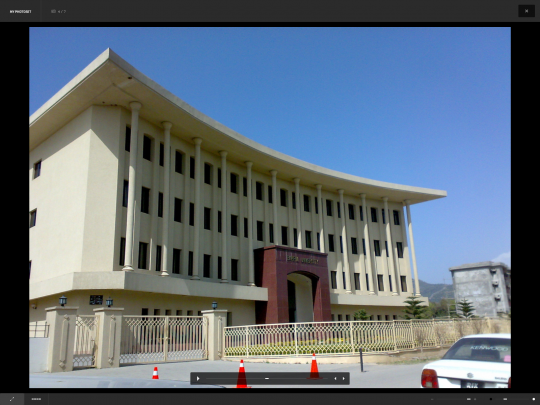 As far as Flickr goes, you can view your own sets and photostream and also get the updates from your friends but you can't browse for random content. You can view photos in a full screen slide show but you can't modify anything like add tags or comments; though it is possible to do that when you are uploading photos from within Skimmer.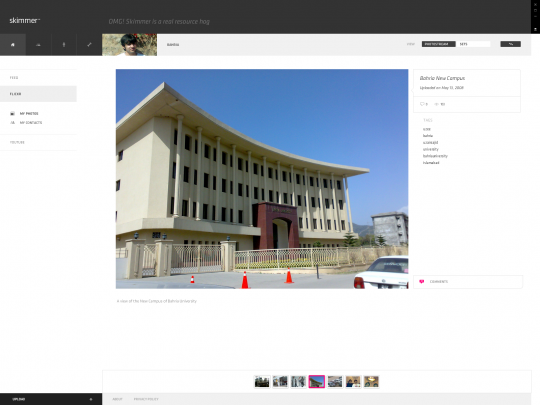 YouTube integration is pretty much the same as Flickr's. You can't browser random content, but view your own or your friend's videos in full screen. A very important feature missing here is that you can't view videos from channels you are subscribed to. Uploading is supported here to a basic level, but I had trouble while uploading aur playing videos. It seems that once you start playing one, you can't do anything until it finishes. I'm sure this is just a bug in the beta version and would be fixed in the upcoming releases.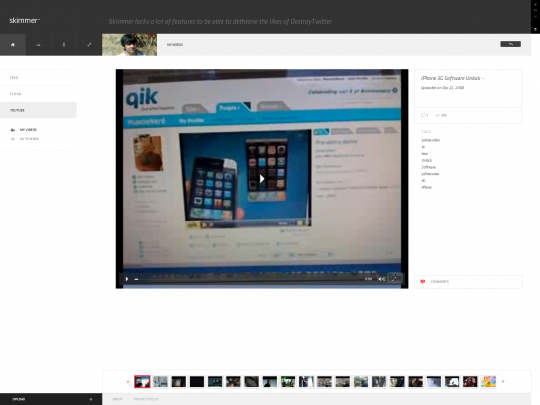 There isn't a lot of activity from Facebook covered here besides the basic updates like photos and wall posts. Besides I've always disagreed with having a Facebook client that doesn't deliver the full experience; like applications for instance. The interface is quite polished though and you can filter the feed based on contact groups. You can set Skimmer in Window mode or Full Screen or shrink it down to the size of a side bar widget. The design team did put a lot of effort into the application but it still lacks functionality.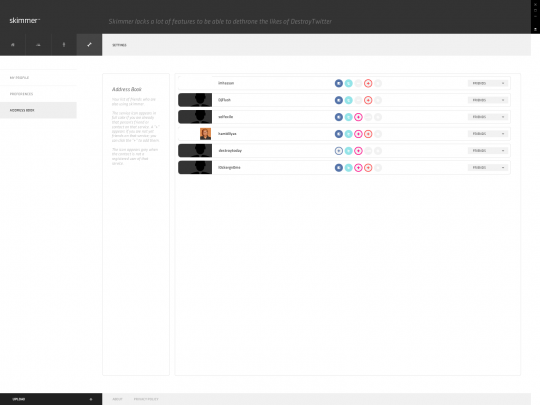 Past experience has taught us that looks aren't everything; like take Blu for example. It looks good but there is a lot of functionality missing. Some of the features I'd like to see in Skimmer would be better support for Twitter, including integrated search and profiles. DestroyTwitter would be a good reference for features. As far as Flickr and YouTube is concerned, the ability to browse content randomly should be there, like related videos or subscription updates from YouTube. Facebook support should be dropped all together because you'd have to open up the browser to respond to an update anyways. Instead of that, support for standard RSS and ATOM feeds should be added so Skimmer could serve as a generic feed reader.
You can Download Skimmer from here.