More Microsoft action today as the Internet Explorer development team pushed out the third Platform Preview demo for Windows Internet Explorer 9 (yeah I know Microsoft needs to hire someone to work on their branding strategy).
This preview release seems to be the most significant of all with a lot of interesting demos showing the improved HTML5 capabilities as well as improvements to the rendering speeds and compliance with the web standards. This build also supports the Web Open Fonts Format (WOFF), and boasts an Acid3 score of 83/100.
Among the HTML5 features demonstrated, <video>, <audio> and <canvas> take the prime spots thanks to excellent demos ranging from concept web applications like a book store and cover-flow like video player to fun and interactive and highly addictive games like Tile Switch.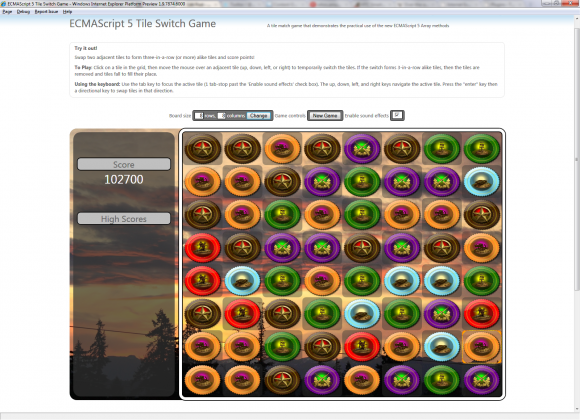 Improvements to the JavaScript engine boost the performance of the browser putting it head to head with Safari 5.0 and Google Chrome 5.0, while Firefox is left smoking the dust. After running the latest platform preview, I don't really see a reason why Internet Explorer 9 wont be among my preferred browsers when it is released (I haven't really used Internet Explorer since 2004 when I switched to Firefox).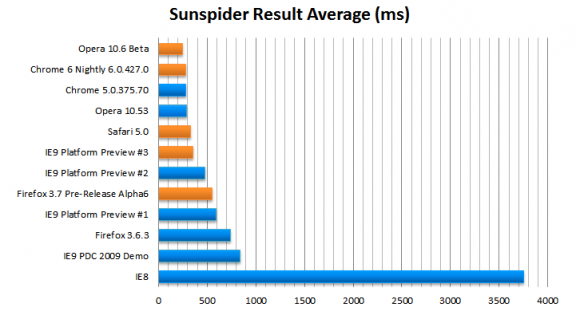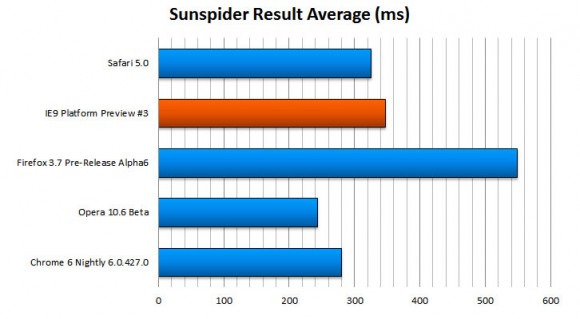 In the chart on the top, the orange highlighted bars indicate the latest preview builds of the five major browsers while the blue bars show the previous and currently stable builds. The second chart shows how Internet Explorer 9 is catching up to the performance of Google Chrome and Safari.
If you are interested in trying out the latest build of Internet Explorer 9 Platform Preview then you can find the download link in the box below. I'll also post a few videos showing the new demos later with a more in depth analysis.