Mozilla is finally set to roll out the first Beta build of the next major Firefox version – Mozilla Firefox 4.0. In fact, a candidate build for Windows, Mac OS X, and Linux is already out and available for download on Mozilla's FTP servers.
The new Firefox 4 Beta 1 brings us the glimpse of the major new UI revision that's going to be the part of the final version of Firefox 4. While I haven't seen what's in store for the Mac and Linux version, the Windows version would get support for deep Aero integration, as well as tabs on top – just like Google Chrome and Opera.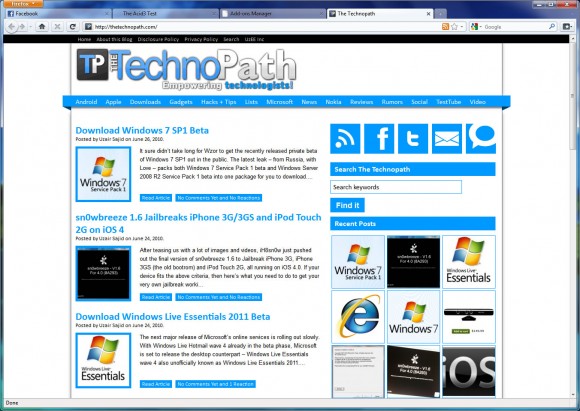 Mozilla is also working to remove most of the dialog boxes from Firefox 4 and implementing them as native tabs. This would allow them to port Firefox 4 to platforms which do not have a window manager, like the Apple iPad for instance (Note: I'm only using the iPad as an example). Of course the full transition of the UI would take time, but Firefox 4 Beta 1 does move the Add-ons manager into a tabbed process. Expect a similar treatment for the History browser and even the Options dialog.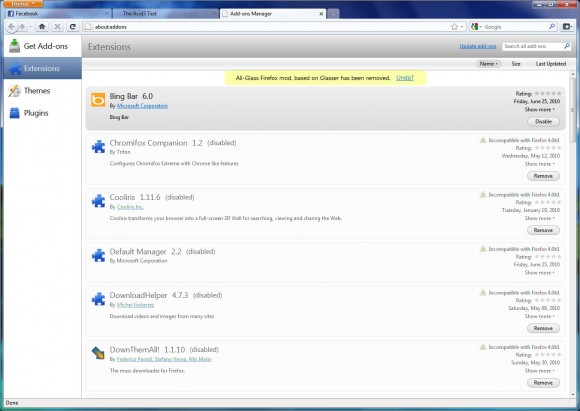 As for performance, I haven't run full tests yet but it definitely feels faster than Firefox 3.6, though not as much as Internet Explorer 9 Platform Preview 3 (phew!) and Google Chrome 6. Of course it is still a work in progress so expect more performance improvements. It also manages a 97/100 on the Acid 3 tests.
I couldn't get a hold of the official changelog yet, so I'll update the post as soon as I get it. As for a release date of the final version, Mozilla is eying November/December 2010 for the final release of Firefox 4.
You can find the download link below. The executable is for the Windows version only but you can find other operating systems by hitting the source link.
Update 2
Firefox 4 Beta 2 is now available for download!
Update
Here's the official release notes.
Tabs are now on top by default on Windows only – OSX and Linux will be changing when the theme has been modified to support the change.
On Windows Vista and Windows 7 the menu bar has been replaced with the Firefox button.
You can search for and switch to already open tabs in the Smart Location Bar
New Addons Manager and extension management API (UI will be changed before final release)
Significant API improvements are available for JS-ctypes, a foreign function interface for extensions.
The stop and reload buttons have been merged into a single button on Windows, Mac and Linux.
The Bookmarks Toolbar has been replaced with a Bookmarks Button by default (you can switch it back if you'd like).
Crash protection for Windows, Linux, and Mac when there is a crash in the Adobe Flash, Apple Quicktime or Microsoft Silverlight plugins.
CSS Transitions are partially supported.
Full WebGL support is included but disabled by default at this time.
Core Animation rendering model for plugins on Mac OS X. Plugins which also support this rendering model can now draw faster and more efficiently.
Native support for the HD HTML5 WebM video format.
An experimental Direct2D rendering backend is available on Windows, turned off by default.
Web developers can use Websockets for a low complexity, low latency, bidirectional communications API.
Web developers can update the URL field without reloading the page using HTML History APIs.
More responsive page rendering using lazy frame construction.
Link history lookup is done asynchronously to provide better responsiveness during pageload.
CSS :visited selectors have been changed to block websites from being able to check a user's browsing history.
New HTML5 parser.
Support for more HTML5 form controls.