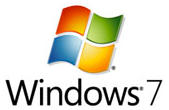 Windows 7 did cause quite an uproar in the PC world because it is an operating system to look forward to. Microsoft surprisingly unveiled the beta build 7000 for public download (after it had been leaked on torrents already). The response from the community was overwhelming enough to bring Microsoft's download servers to their knees on launch day. Thankfully, Microsoft did manage to resolve the problem rather quickly and the download servers were online in a couple of hours.
Microsoft extending the original beta download period a couple of weeks back to meet with the demands of the users who seem to be throwing out their copies of Windows Vista SP1 in favor of a operating system sill in Beta.
That extension also comes to an end tomorrow, as Microsoft will stop offering new downloads to everyone after February 10. Those who had started before that have up till February 12 to complete their download, after which it would automatically be canceled.
Though for any user who has been around computers for a while now, they would know that all isn't lost even after the official download period expires as there are lots of illegal sources to download from. As far as activation is concerned, every product key can be used on up to 3 machines so if you haven't already got yours, log in with your Live ID and get them now (for 64-bit version).