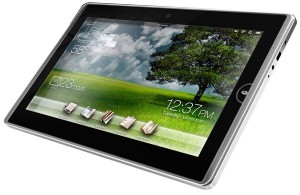 For those of you keeping up with the news, a lot of new slate tablets have popped up at this years Computex at Taipei. Everyone from hardware manufacturers, Original Equipment Manufacturers and Software giants like Microsoft were showcasing dozens of tablet prototypes and concepts at their booths – and some of them might even make it to the market this year.
I decided to hunt down the currently available specifications from the internet and make a nice comparison with the current king of the tablets – the Apple iPad. While some of the specifications still aren't final, they do seem to outdo Apple's toy when it comes to sheer technical details on paper.
For my first comparison, I'd like to start of with the Asus EeePad EP121 and EP101TC. Both were unveiled at Asus' Computex booth and are slated for a Q1 2011 release. What's special about these two devices is that both carry unique features that are a first for this form factor. The 12.1 inch EeePad EP121 is powered by an Intel Core 2 Duo CULV processor running Windows 7, while the 10.1 inch EP101TC is the first announced tablet to feature the new Windows  Embedded Compact 7 operating system.
Preliminary specifications are subject to change and the actual device may have a different design when it is shipped next year. But Asus did promise more than 1 USB 2.0 ports, and at least a 10 hour battery life. Here is how the two tablets stack up against the formidable iPad.
I'll keep revising the details as they become available. And since these two particular tablets aren't hitting the shelves anytime soon, no specification could be final. I did a similar comparison of Apple iPad vs. MSI WindPad 100 and WindPad 110.