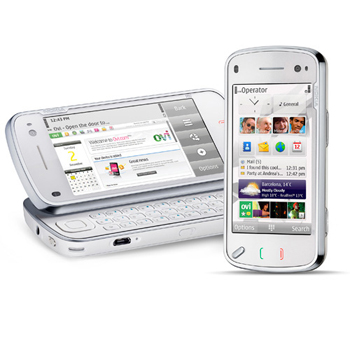 The amount of buzz the smartphone industry is generating these days is phenomenal, even in these economic crisis. We have already seen some of the major players for this year, which include the Palm Pre, and HTC Android G2. Besides that there are strong rumors about a new generation iPhone coming out this year.
But none of these gadgets excites me more than the upcoming Nokia N97, the flagship for the Nokia Nseries line. The N97 will bring the touch to the Nseries line up, and would be Nokia's 2nd touchscreen handset after the 5800 XpressMusic (which didn't quite impress me). While there are still a couple of months before it is released I thought it would be good to compile a post with all the information we currently have about this device. I'll be updating this post along the way when more information comes out, so it would be a good idea to subscribe.
First of all, lets look at the official N97 trailer by Nokia for an appetizer.
I'm sure most of the people had already seen that video, but still its a fun one to watch every time. Next lets see some technical specifications on the handset.
Series 60 5th Edition (Symbian OS 9.4)
Touchscreen / Tilt Slider form factor
3.5″ TFT Touchscreen with a 640×360 wide screen resolution
Physical and virtual QWERTY Keyboard
32GB of internal memory onboard
Support for upto 32GB MicroSDHC (16GB MicroSDHC card included)
GSM / UMTS / EDGE / 3G / HSDPA capable
5 Mega Pixel camera with Carl Zeiss lens, Auto focus, and Dual LED Flash
DVD Video Recording at 30 Fps (640×480 resolution)
32-Bit ARM 11 CPU running at 369 MHz
Talk time up to 400 minutes
Standby time up to 430 hours
Video playback up to 4.5 hours
Music playback up to 37 hours
And that's not all. The N97 features a fully customizable home screen with Widget support (a little like the Active Standby in Series 40), including 3rd Widgets like Facebook for example. The text input is another very strong point of the N97, which supports a QWERTY physical keyboard, or you can have a number of virtual keyboards ranging from a full screen QWERTY, a miniature QWERTY, a predictive text capable Numeric Keypad and even Handwriting Recognition. Here is another video demoing the features.
Nokia have went beyond the traditional Assisted GPS integration and added a built in compass that points to the true north. Couple that with GPS and you have a full blown turn by turn navigation system powered by Nokia Maps 2.0 Touch. There would be several apps available for the device at launch, and you can even emulate applications designed for the older Series 60 editions as well as Java MIDP. How will that compete with the Apple App Store and the Android Marketplace remains to be seen. Oh and since we're on the subject, here's another video showing comparisons between the iPhone 3G, Nokia N97 and HTC Android G1.
We have to admit one thing here, the iPhone is still the sexiest of them all, and that's really not surprising because it is a product of Apple, which excels in aesthetic quality.
The N97 is set to launch around June/July in the Europe and Asia markets and around October in the rest of the world (including North America). The launch price is speculated to be around $600 to $700, which isn't very surprising for a Nokia Flagship device. Please do share your comments and opinions on the handset, and be sure to check back on the article as I would be updating it to reflect new information.